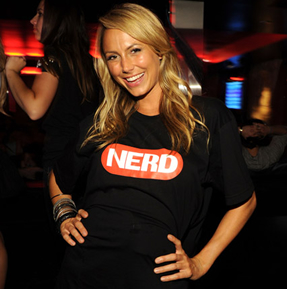 Dancing With The Stars sensation and Former WWE Diva (can we officially label her a "Hustle Hottie" yet?) Stacy Keibler showed up at the Nerds Party in California, and Danny DeVito may never be the same again! Stacy once again showed she doesn't take her good looks too seriously (though we take it way too seriously, and we kinda like it that way) by making fun of herself, wearing the NERD t-shirt, and actually dancing with DeVito! Hey, you've come a long way, Miss Hancock!
CLICK ON THE PICS BELOW TO SEE THE ENTIRE GALLERY OF
STACY KEIBLER MAKING NERDS ACROSS THE WORLD FEEL
MUCH BETTER ABOUT THEMSELVES!

THE HEYMAN HUSTLE'S VERY OWN TRAINED MONKEYS ARE PROUD
TO PRESENT THE TOP 15 STORIES OF THE DAY, ALL CONVENIENTLY
LINKED HERE FOR YOUR REVIEW. NO NEED TO SURF THE WEB, WE
DID ALL THE HARD WORK FOR YOU. JUST PICK A PIC AND CLICK!