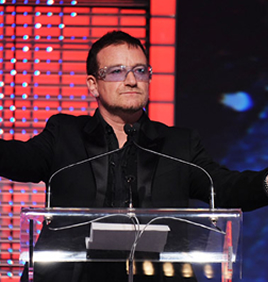 A blindingly-star studded gathering of major music superstars and uber-high powered executives signaled a brand new era in the music business tonight at Skylight Studios in New York to trumpet the launch of VEVO.
VEVO is the latest in a long line of music video streaming services, but this one has a ridiculous number of fabulously successful people all involved. VEVO even managed to get EMI to join them on the eve of the launch. I bet those lawyers are all sucking down Pepcid tonight! VEVO already offers more than 30,000 videos on their site for free and all content has been received via labels such as Universal, Sony, and EMI Music. The site also contains programing from CBS radio stations and Last.fm (both owned by CBS). Other supporters include Colgate-Palmolive Co., MasterCard Inc., McDonald', and AT&T. Quite the impressive lineup.
The Viacom-owned MTV may own a vault of old and new videos, but quality can definitely be kicked up a notch and the Google-owned YouTube offers High Definition.
According to an interview with Vevo Chief Executive Rio Caraeff, VEVO, which will carry original programs by artists, is straying away from random users and the finance partners are eating that up by paying "$20 to $45 for every 1,000-page views, Caraeff also was sure to emphasize, "We're offering advertisers opportunities that they can't buy off the rack."
This is truly MTV for the digital age, and a host of heavyweights were out tonight in support of the concept.
HOLY F'N POPWRECK! RIHANNA MEETS ADAM LAMBERT (3 photos)
MARIAH CAREY GETS TOGETHER WITH RIHANNA (The Diva and The PopWreck)

JOHN MAYER AND RIHANNA (This guy knows how to hook up!)

50 CENT (2 photos)

BONO (we told you this was star-studded)

BONO AND SHERYL CROW

ADAM LAMBERT (STFU already)

VEVO CO-CHAIRMAN AND SONY CEO ROLF SCHMIDT-HOLT (this dude makes mega-bucks)

EMI MUSIC CEO ELIO LEONI-SCETI (no slouch himself)

CIARA ('nuff said)

MUSIC MOGUL AND LEGENDARY HUSTLER JIMMY IOVINE

THE LEGENDARY LA REID AND PETE WENTZ

JUSTIN TIMBERLAKE (at the same place and the same time as Rihanna? Nooooooo!)

MARIAH CAREY (accompanied by her boobs)

GOOGLE CEO ERIC SCHMIDT, CHAIRMAN – CEO UNIVERSAL MUSIC DOUG MORRIS, QUEEN RANIA OF JORDAN, BONO, AND INTERSCOPE GEFFEN A&M CHARIMAN JIMMY IOVINE (there's some serious Hustlin' in this group, huh?)
AS IF THAT WASN'T ENOUGH, WE HAVE HOT SNAPS
OF LADY GAGA PERFORMING AT THE VEVO LAUNCH!
---
LIVE FROM NEW YORK, IT'S THE ALL NEW AND IMPROVED
HOLLYWOOD CHARLIE MEDIA WATCH (SHOULDN'T HE BE
MANHATTAN CHARLIE BY NOW? WE'RE JUST SAYING) FOR
WEDNESDAY, DECEMBER 9, 2009 PRESENTED TO YOU NOW
IN SPECTACULAR 360 DEGREE "HUSTLEVISION!"
WE GOT PICS, RIGHT AFTER THIS…..