JJ Abrams' 2nd Installment of the Re-Booted "Star Trek" Movie Series Takes Us Where No Trekkie Has Gone Before!
Is it Khaaaaaaan?

Benedict Cumberbatch's chilling performance in just the teaser trailer for "Star Trek Into Darkness" has Trekkies debating the name and purpose of the yet-unnamed villain who is thirsting for revenge on Captain Kirk and crew.

"You think your world is safe. It is an illusion," Cumberbatch's voice coolly threatens. "A comforting lie told to protect you. Enjoy these final moments of peace. For I have returned to have my vengeance."
Cut to a series of ominous, menacing shots: Spock exploring a volcanic planet, a starship emerging from the water, the Enterprise getting knocked around, Bones McCoy sprinting through the street, a new cadet played by Alice Eve screaming for her life, and James T. Kirk himself doing battle with his newest nemesis.
"So," Cumberbatch calls to Kirk as the Enterprise's captain approaches. "Shall we begin?"
Using Cumberbatch's challenge as a cue, the trailer closes out with a starship skidding across the water towards a city, bringing those "final moments of peace" to an end for all the unfortunate souls in the ship's general vicinity.
The movie hits theatres May 17, 2013. Of course, you don't have to wait that long to discuss it, as we're HustleTweeting right now about Star Trek Into Darkness. We cordially invite you to join the conversation by following us on Twitter HERE or write us directly at hustleoncrave@gmail.com Hey, have you checked out the Hustle's Ultra High Quality You Tube Channel, with exclusive videos featuring OUR WORLD EXCLUSIVE WITH MIKE TYSON … BROCK LESNAR'S "HERE COMES THE PAIN" … ICE-T AND COCO's SEX SECRETS … TEEN SENSATION TAYLOR MOMSEN … UFC BAD BOY NICK DIAZ … THE WALKING RIOT MISSY HYATT if you're not subscribing, you're missing something … and by the ways cheapos, it's FREE! Yes, absolutely 100 percent FREE! What are you waiting for? Check it out HERE!
By the way, we're also old school social networkers, so check out our interactive skills on Facebook HERE and even on MySpace HERE. If you're on Friendster, GFY … and have a pleasant tomorrow!
CHECK OUT THE TEASER TRAILER FOR "STAR TREK INTO DARKNESS!"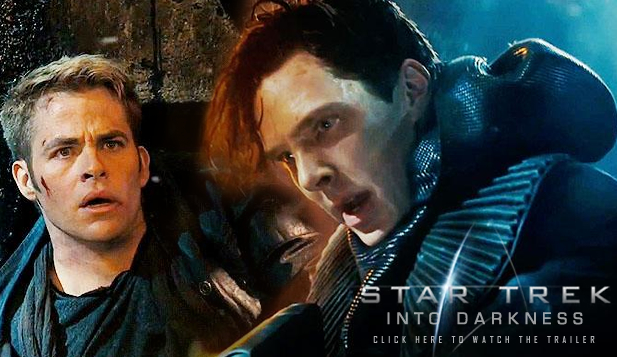 WE HERE AT THE HEYMAN HUSTLE HAVE ENSLAVED HIGHLY TRAINED
MONKEYS TO IGNORE THE FACT THEY ARE OVERWORKED AND UNDERPAID,
ALL IN THE NAME OF SCOURING THE WORLD WIDE WEB TO FIND THE FIFTEEN
MOST PROVOCATIVE STORIES ON THE INTERNET. ALL FOR YOU. NO ONE ELSE
BUT YOU. JUST YOU. AND ALL YOU NEED TO DO IS PICK WHICH PIC TO CLICK!