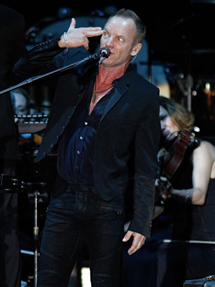 Symphonicity Is Not Only Cleverly Named, But A Historic Concert Event!
Musical genius Sting performed in from of an adoring crowd in Perth, Australia, where fans were witness to the legend giving a new take on several of his classics, as he performed with the Melbourne Symphony Orchestra!

His Symphonicity Australia Tour sees the singer-songwriter re-imagining his music with new orchestral settings.The opening concert in Perth was nothing short of a momentous occasion, as many were in absolute awe as Sting proved Roxanne could be re-set as a slow ballad floating on cellos, and that Next to You, a full-throttle rocker, could benefit from massed violins.

The Australian media celebrated the concert with headlines like The King Of Pain Delivers a Knock Out Punch!

"There is something of the British culture here that we have in common so it doesn't feel so foreign to me," Sting said of his journey, "I am looking forward to performing in Australia, having a whole new palate of musical colours to work with and reinventing the songs that have been the staples of my live shows for over 30 years."

We're HustleTweeting about Sting and his Symphonicity tour, and you're more than welcome to join the conversation! Follow THE HEYMANHUSTLE on Twitter HERE or write to us at hustleoncrave@gmail.com
You can also check out our social networking skills by visiting us on Facebook HERE and even on MySpace HERE
CLICK ON THE PICS BELOW TO SEE THE ENTIRE GALLERY
FEATURING STING'S SYMPHONICITY TOUR IN PERTH, AUSTRALIA!

IT'S TIME FOR AN ALL NEW EDITION OF THE HOLLYWOOD CHARLIE
MEDIA WATCH, OUR DAILY TRAVEL ACROSS THE WORLD WIDE WEB.
OUR HIGHLY TRAINED MONKEYS HAVE PICKED OUT THE 15 WILDEST
STORIES FROM THE INTERNET FOR YOUR ASTUTE REVIEW. YOUR PART
IS VERY EASY. ALL YOU NEED TO DO IS PICK A PIC … AND CLICK!