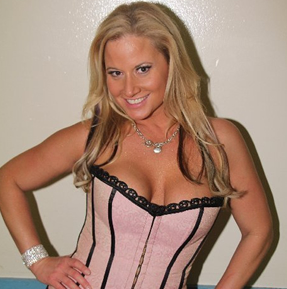 AN EXCLUSIVE PHOTO SESSION WITH TAMMY LYNN SYTCH!
After a career filled with high points few have reached, and low points few ever come back from, Tammy Lynn Sytch will be inducted into the WWE Hall of Fame this weekend as "The Original Diva, Sunny!"
CLICK HERE FOR EXCLUSIVE PHOTOS OF SUNNY AT MADISON SQUARE GARDEN!
CLICK HERE FOR EXCLUSIVE PHOTOS OF SUNNY RETURNING TO THE SPOTLIGHT!
Bob Mulrenin was granted an exclusive photo session with Sunny, and the famed pro wrestling photographer stated, "This is obviously the bigger honor of Tammy's career, and she's very excited about it. Hey, I'm excited for her. She has worked her way back into shape and into everyone's good graces, and this just gives her even more motivation to make it all the way back to the top again!"
We're HustleTweeting about Tammy, and you're more than welcome to join the conversation by following THE HEYMAN HUSTLE on Twitter HERE For you social networkers, you can check us out on Facebook HERE or MySpace HERE
You can check out the entire exclusive photo gallery of Sunny. All you have to do is CLICK HERE!

IT'S TIME FOR AN ALL NEW EDITION OF THE HOLLYWOOD CHARLIE
MEDIA WATCH, OUR DAILY TRAVEL ACROSS THE WORLD WIDE WEB.
OUR HIGHLY TRAINED MONKEYS HAVE PICKED OUT THE 15 WILDEST
STORIES FROM THE INTERNET FOR YOUR ASTUTE REVIEW. YOUR PART
IS VERY EASY. ALL YOU NEED TO DO IS PICK A PIC … AND CLICK!