… and he's talking (well, screaming) about Charlie Sheen and The Goddesses! #WINNING!
He's back!
The wildest, craziest, nuttiest, most maniacal force in digital programming has returned!
THE ANGRY GRANDPA is back, and he's not playing Mr. Nice Guy anymore, bitches!
"Damn right I'm not playing Mr. Nice Guy," The Angry Grandpa yelled into the phone this morning, "do you see what's going on in this world? Who is this CHARLIE SHEEN nutjob anyway? Why is this tiny little tart BREE OLSON quitting porn to hang out with him? That's not WINNING! That's depriving Grandpa of some quality late night laptop entertainment!"
He wasn't through, by the way. "I done seen what you have on your website, with all these bimbos being recommended to be Goddesses," Grandpa hollered, "ya'll recommending SHAUNA SAND and HEATHER VANDEVEN and all these floozies. You know what that boy needs? No more Goddesses, and an Angry Grandpa to give him a good swift kick in his ass!"
We're HustleTweeting about The Angry Grandpa, and you're more than welcome to join the conversation by following THE HEYMAN HUSTLE on Twitter HERE or write to us at hustleoncrave@gmail.com
You can also subscribe (for FREE, cheapos, absolutely FREE) to our Ultra High Quality YouTube Channel HERE, and don't forget to check out our old school social networking skills by visiting us on Facebook HERE and even on MySpace HERE
THE ANGRY GRANDPA RETURNS … AND TAKES ON CHARLIE SHEEN!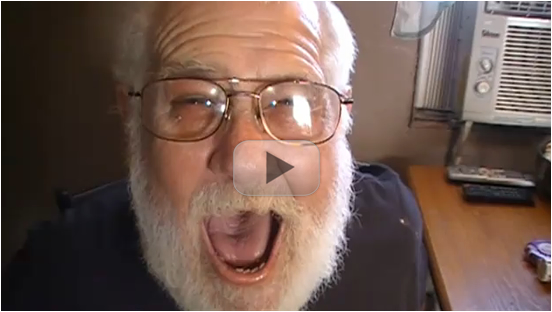 IT'S TIME FOR AN ALL NEW EDITION OF THE HOLLYWOOD CHARLIE
MEDIA WATCH, OUR DAILY TRAVEL ACROSS THE WORLD WIDE WEB.
OUR HIGHLY TRAINED MONKEYS HAVE PICKED OUT THE 15 WILDEST
STORIES FROM THE INTERNET FOR YOUR ASTUTE REVIEW. YOUR PART
IS VERY EASY. ALL YOU NEED TO DO IS PICK A PIC … AND CLICK!