Paul Heyman Hustles The Legendary James Lipton and "Legally Blonde" Broadway Sensation Laura Bell Bundy …with special cameo appearances by Jeremy Piven, Hank Aaron, NY Governor David Paterson, Morgan Freeman, The Naked Cowboy, Terrence Howard, and a homeless dude looking for nickels. What's Your Hustle?
Only our own Hustler De Tuti Hustlers Paul Heyman could round up an eclectic group like this. One of the most popular episodes of the 1st season of THE HEYMAN HUSTLE was "The Broadway Hustle," and with good reason. "It was just one of those episodes where everything clicked," Hustle Director Mitchell K. Stuart commented over the weekend, "and Paul hustling James Lipton was worth the price of admission alone."
Laura Bell Bundy, of course, is red hot in the news, coming off last night's awesome performance at the 45th Annual Academy of Country Music Awards at the MGM Grand Garden Arena in Las Vegas. The perky blonde stole the show with her live performance of her country hit "Giddy On Up." We expected nothing less from our favorite Broadway Hustla!
CLICK HERE FOR AN UBER-SEXY GALLERY OF LAURA BELL BUNDY AND HER STACY KEIBLER-LIKE LEG DISPLAY ON THE ORANGE CARPET (ORANGE???) AT THE COUNTRY MUSIC AWARDS!
CLICK HERE FOR THE ORIGINAL STORY ON "THE BROADWAY HUSTLE" FROM THE UK SUN!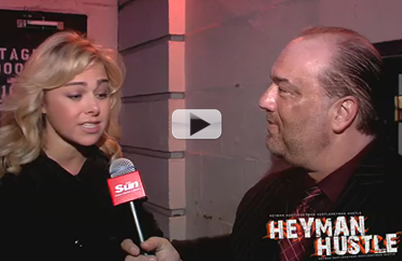 ---
WELCOME TO THE HOLLYWOOD CHARLIE MEDIA WATCH,
YOUR ONE-STOP DESTINATION FOR ALL THAT'S HOT ON
THE WORLD WIDE WEB. NO NEED TO SURF THE NET, OUR
TRAINED MONKEYS HAVE DONE THE HARD WORK FOR
YOU. YOUR PART IS EASY. JUST PICK A PIC AND CLICK!