The Best in the World and our very own Hustler De Tuti Hustlers go nose-to-nose … via satellite … on a most memorable follow-up to last week's wild events in Philadelphia and Brooklyn!
It's confirmed. "The Best" CM Punk will face "The Beast" Brock Lesnar at SummerSlam in a match entitled "The Best Vs The Beast" on Sunday, August 18, 2013. PAUL HEYMAN BASHED CM PUNK IN THE FACE WITH A LADDER AT MONEY IN THE BANK PAY PER VIEW … and then BROCK LESNAR ATTACKED PUNK AFTER PAUL HEYMAN EXPLAINED WHY HE BETRAYED PUNK AT THE BARCLAYS IN BROOKLYN … and now the feud takes its next step as the Brock vs Punk match is official for SummerSlam.
According to WWE.com:
One would think that CM Punk wasn't feeling particularly talkative after his thrashing at the hands of Brock Lesnar last week, one would be right. Punk didn't want to talk, he wanted to fight. Speaking of Lesnar's true secret weapon – not his power, but the fear he inspires – Punk addressed The Anomaly's mystique head on with his boldest proclamation yet: "WWE.com, here's your headline … I am not afraid of Brock Lesnar."
Vowing to leave Lesnar as beaten as he was, Punk demanded a SummerSlam match of "The Best vs. The Beast," and his fiery rhetoric summoned Paul Heyman, via satellite and apparently next to Lesnar himself (The Anomaly remained offscreen), to offer a rebuttal. In short, Heyman's response was thus: "If it's a fight you want, CM Punk, your challenge at SummerSlam is accepted."
Of course, we're HustleTweeting about Brock vs Punk, and you're more than welcome to join us by following us on twitter HERE or write us directly at hustleoncrave@gmail.com Hey, have you checked out the Hustle's Ultra High Quality You Tube Channel, with exclusive videos featuring OUR WORLD EXCLUSIVE WITH MIKE TYSON … BROCK LESNAR'S "HERE COMES THE PAIN" … ICE-T AND COCO's SEX SECRETS … TEEN SENSATION TAYLOR MOMSEN … UFC BAD BOY NICK DIAZ … THE WALKING RIOT MISSY HYATT if you're not subscribing, you're missing something … and by the ways cheapos, it's FREE! Yes, absolutely 100 percent FREE! What are you waiting for? Check it out HERE!
CLICK ON THE PICS TO SEE THE ENTIRE GALLERY FEATURING THE
CM PUNK – PAUL HEYMAN "SATELLITE" CONFRONTATION ON MONDAY NIGHT RAW!

LIVE … VIA SATELLITE … ITS PUNK VS HEYMAN!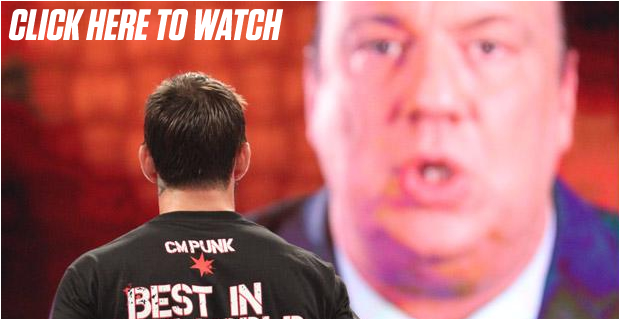 WE HERE AT THE HEYMAN HUSTLE HAVE ENSLAVED HIGHLY TRAINED
MONKEYS TO IGNORE THE FACT THEY ARE OVERWORKED AND UNDERPAID,
ALL IN THE NAME OF SCOURING THE WORLD WIDE WEB TO FIND THE FIFTEEN
MOST PROVOCATIVE STORIES ON THE INTERNET. ALL FOR YOU. NO ONE ELSE
BUT YOU. JUST YOU. AND ALL YOU NEED TO DO IS PICK WHICH PIC TO CLICK!