HUSTLE GLOBAL EXCLUSIVE! Good Ol' JR Hosts The Most Heated Debate of the Year as The Current Reigning Defending WWE Champion and The Single Greatest Superstar in WWE History Debate The Answer To The Question "WHAT IF?"
Just three days before WWE SUMMER SLAM 2012, on a closed set in Hollywood, California, THE LOOKING4LARRY AGENCY filmed a viral video as part of the promotion for THQ's WWE '13 video game that is destined to become a destination point of controversy for a long time to come.
The current reigning defending WWE Champion CM Punk and the single greatest Superstar in WWE history, Stone Cold Steve Austin debated each other in a forum hosted by "Good Ol' JR" Jim Ross. The subject matter?
WHAT IF?

What if Punk and Austin actually fought? Whether in the Attitude Era, or in present day WWE, the question is quite intriguing, and one of the key components to the WWE '13 experience is the fact you can make that match happen … in the video game, of course.

CLICK HERE TO PRE-ORDER WWE '13 FEATURING CM PUNK AND STONE COLD STEVE AUSTIN!

Executive Producer / Producer Paul Heyman
Director / Producer Mitchell K. Stuart
Assistant Director Jacob Heyman
Line Producer Enersy Mendez
DP / Camera Operator Shane Harness
Camera Operator # 2 Henry Diamo
Camera Operator # 3 David Canchola
Gaffer Brent Dilger
Swing Matthew Newcomer
Production Assistant Brian Ryo Hata
Sound Operator Brian Sorbo
Makeup Monica Giselle
Editor Alex Dolginko
Assistant Editor Paul DeCeglia
Assistant Editor Corey Williams
Production Intern Dillon Galvis
Graphics Michael 24/7
Still Photoggraphy Ralph David Maisonette
Executive for THQ Bryce Yang
"GOOD OL' JR" JIM ROSS HOSTS THE GREAT WWE '13 DEBATE BETWEEN
WWE CHAMPION CM PUNK AND STONE COLD STEVE AUSTIN!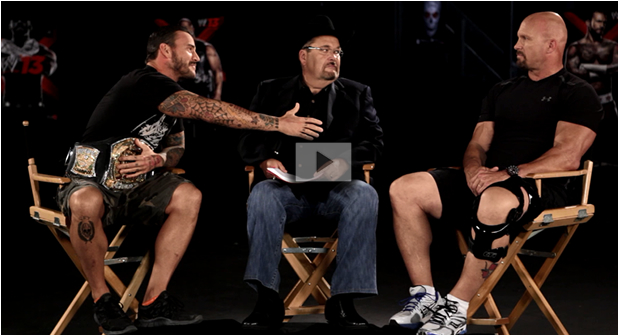 IT'S TIME FOR AN ALL NEW EDITION OF THE HOLLYWOOD CHARLIE
MEDIA WATCH, OUR DAILY TRAVEL ACROSS THE WORLD WIDE WEB.
OUR HIGHLY TRAINED MONKEYS HAVE PICKED OUT THE 15 WILDEST
STORIES FROM THE INTERNET FOR YOUR ASTUTE REVIEW. YOUR PART
IS VERY EASY. ALL YOU NEED TO DO IS PICK A PIC … AND CLICK!