Manny Pacquiao was knocked out last night in the sixth round of his pay per view boxing fight at the MGM Grand Garden Arena from Las Vegas by Juan Manuel Marquez, who got to celebrate his victory while Manny Pacquiao remained out cold.
And now, ladies and gentlemen, with that, a rivalry known for its lack of a definitive triumph suddenly had the most definitive ending of them all. Juan Manuel Marquez threw both arms skyward, as blood dripped from his broken nose. In this fourth fight between the two, the series now goes to 2 decisions for Pacquaio, 1 draw, and now one conclusive knockout by Juan Manuel Marquez.
Marquez's message was simple. "I threw the perfect punch," he said.
It happened in the sixth round, after Pacquiao mounted the most furious of comebacks, after he overcame an early knockdown with a reciprocal knockdown, after he stung Marquez with a series of left hands. As Round 6 neared its conclusion, Marquez (55-6-1, 40 knockouts) crept in close to Pacquiao, and he came over the top from a short distance with that right.
The shot crumpled Pacquiao (54-5-2) to the canvas, right in front of Bob Arum, his promoter, who held his hands out as if he wanted to catch his prized fighter in his arms. Pacquiao's wife, Jinkee, held her face in both hands and cried. It took her husband several minutes to rise, and when he did, his face was bruised under both eyes, which were vacant. He looked lost.
"We knew it would be a tough fight," Marquez said. "But not an impossible fight."
Pacquiao was later sent to the hospital for a CAT scan; Marquez had a broken nose and a suspected concussion. Whether Pac remembered the pre-fight visit from Mitt Romney or not, only the Pac Man would know.
Of course, we're HustleTweeting about the PAC KO, and you're more than welcome to join the conversation by following us on Twitter HERE or write us directly at hustleoncrave@gmail.com Hey, have you checked out the Hustle's Ultra High Quality You Tube Channel, with exclusive videos featuring OUR WORLD EXCLUSIVE WITH MIKE TYSON … BROCK LESNAR'S "HERE COMES THE PAIN" … ICE-T AND COCO's SEX SECRETS … TEEN SENSATION TAYLOR MOMSEN … UFC BAD BOY NICK DIAZ … THE WALKING RIOT MISSY HYATT if you're not subscribing, you're missing something … and by the ways cheapos, it's FREE! Yes, absolutely 100 percent FREE! What are you waiting for? Check it out HERE!
By the way, we're also old school social networkers, so check out our interactive skills on Facebook HERE and even on MySpace HERE. If you're on Friendster, GFY … and have a pleasant tomorrow!
HERE IT IS … THE PAC KO!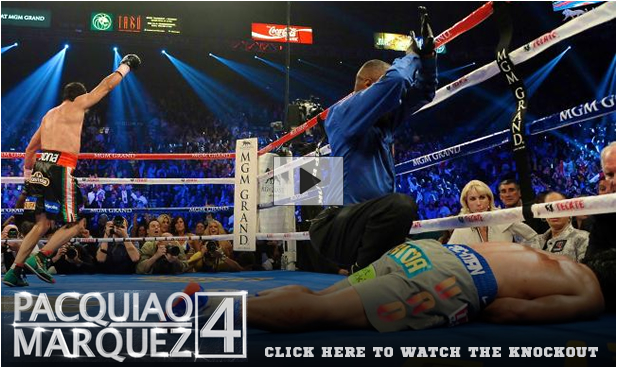 WE HERE AT THE HEYMAN HUSTLE HAVE ENSLAVED HIGHLY TRAINED
MONKEYS TO IGNORE THE FACT THEY ARE OVERWORKED AND UNDERPAID,
ALL IN THE NAME OF SCOURING THE WORLD WIDE WEB TO FIND THE FIFTEEN
MOST PROVOCATIVE STORIES ON THE INTERNET. ALL FOR YOU. NO ONE ELSE
BUT YOU. JUST YOU. AND ALL YOU NEED TO DO IS PICK WHICH PIC TO CLICK!