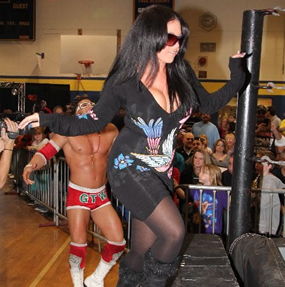 Famed Wrestling Photographer Bob Mulrenin Catches Up with SpikeTV's Very Own Residents of The Jersey Shore!

Robbie E an Cookie made an appearance in Newburgh, New York for North East Wrestling, and the TNA couple caused a commotion, as always!
CLICK HERE FOR OVER 180 EXCLUSIVE PHOTOS OF COOKIE'S CONFRONTATION WITH JWOWW!
CLICK HERE FOR AN AMAZING GALLERY OF PHOTOS OF ROBBIE E AND COOKIE JOINING FORCES WITH ANGELINA FROM MTV'S "THE JERSEY SHORE!"
"Robbie and Cookie really know how to work the crowd," photographer Bob Mulrenin stated last night, "they're really coming into their own, and their act gets better and better by the day."
Of course it does. How could you think any differently? Wassamatta you, anyway, huh? Fuggedaboutit!
Yo, we're HustleTweeting about Robbie and Cookie, and you're more than welcome to join the conversation! Follow The Hustle on Twitter HERE or write to us at hustleoncrave@gmail.com
You can also subscribe (for FREE, cheapos, absolutely FREE) to our Ultra High Quality YouTube Channel HERE, and don't forget to check out our old school social networking skills by visiting us on Facebook HERE and even on MySpace HERE
CLICK ON THE PICS BELOW TO SEE THE ENTIRE GALLERY
FEATURING TNA STARS ROBBIE E AND COOKIE!


IT'S TIME FOR AN ALL NEW EDITION OF THE HOLLYWOOD CHARLIE
MEDIA WATCH, OUR DAILY TRAVEL ACROSS THE WORLD WIDE WEB.
OUR HIGHLY TRAINED MONKEYS HAVE PICKED OUT THE 15 WILDEST
STORIES FROM THE INTERNET FOR YOUR ASTUTE REVIEW. YOUR PART
IS VERY EASY. ALL YOU NEED TO DO IS PICK A PIC … AND CLICK!