Chael Sonnen vs The California State Athletic Commission Goes To The Judges' Scorecards!
In a battle that seemed to go on forever, UFC Middleweight Chael Sonnen had his day before the California State Athletic Commission, and his suspension has been altered … in his favor!

The CSAC returned a vote of 3-1 in favor of reducing its one-year suspension for use of a banned substance by Sonnen toa six months suspension instead.

Sonnen, whose thrilling performance in August against UFC Middleweight Champion Anderson Silva has fans clamoring for a rematch, will be able to compete again in the Octagon on March 3, 2011.

This was a victory for Sonnen, who was notified on September 2nd the Commission was suspending him for testing positive for elevated levels of testosterone following his UFC 117 loss to Silva, which took place under CSAC jurisdiction in Oakland. Sonnen was suspended for one year and fined $2,500 for the alleged infraction pending an appeals hearing, which killed plans for a proposed rematch with Silva slated for this January or February.

Sonnen's reputation took a major hit when urinalysis test results, which were provided by the UCLA Olympic Analytical Laboratory in Los Angeles, revealed that his testosterone-epitestosterone ratio registered at a 16.9 during the Silva bout, with 4.0 being considered the acceptable threshold. Subsequent tests conducted by the same lab also indicated results "consistent with the administration of a steroid," according to medical documents presented by the CSAC.

On Thursday, Sonnen and his legal team revealed that the fighter had been diagnosed with Hypogonadism, a condition that impedes testosterone production in males, and was instructed to begin doctor-supervised replacement therapy beginning back in 2008. Dr. Mark Czarnecki,who is Sonnen's physician, testified he prescribed twice-weekly, self-injected testosterone therapy to address the fighter's "extreme fatigue, exhaustion, and mental fogging," among several other symptoms. The doctor stated he felt the testosterone therapy was mandatory for Sonnen and that he would not approve the fighter to compete without it.
"Chael's body would not tolerate the extreme stress associated with such a sport (without this prescribed treatment)," Dr. Czarnecki stated, while providing detailed multiple documents recording Sonnen's treatment and progress since 2008.
On Thursday, a State Attorney General contended that Sonnen did not properly disclose his testosterone treatment to CSAC officials in a timely fashion, and therefore they did not have the time to review the situation for a possible medical exemption.
Sonnen had originally not listed testosterone on a pre-fight medical questionnaire that he filled out prior to his drug testing, but later notified CSAC Executive Officer George Dodd during a private talk that he had taken a testosterone shot a day prior, which was recorded on a second worksheet.
Sonnen also claimed he'd been approved for an exemption under the previous Executive Officer's supervision when he fought Yushin Okami at UFC 104 in October 2009 in Los Angeles. Dodd said there was no documentation in Sonnen's file to verify this.
Initially, Commissioner Dr. Van Lemons made the motion to uphold the entire suspension and fine, but a 2-2 vote stalemated it. A second motion was then made to reduce Sonnen's suspension to six months. Commissioner Steve Alexander was the sole member to oppose the 3-1 motion.
No public comment yet from UFC or UFC President Dana White as to when Sonnen will fight next.
We're HustleTweeting about the entire Chael Sonnen Controversy, and you are more than welcome to join the conversation! Follow THE HEYMAN HUSTLE on Twitter HERE or write to us at hustleoncrave@gmail.com
You can also subscribe (for FREE, cheapos, absolutely FREE) to our Ultra High Quality YouTube Channel HERE, and don't forget to check out our old school social networking skills by visiting us on Facebook HERE and even on MySpace HERE

CLICK ON THE VIDEO BELOW TO SEE THE CALIFORNIA STATE ATHLETIC
COMMISSION'S HEARING WITH CHAEL SONNEN!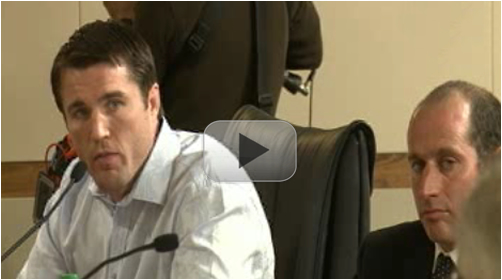 THE HEYMAN HUSTLE'S VERY OWN TRAINED MONKEYS ARE PROUD
TO PRESENT THE TOP 15 STORIES OF THE DAY, ALL CONVENIENTLY
LINKED HERE FOR YOUR REVIEW. NO NEED TO SURF THE WEB, WE
DID ALL THE HARD WORK FOR YOU. JUST PICK A PIC AND CLICK!