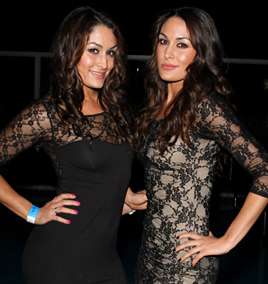 Former WWE Diva Torrie Wilson and present-day WWE Divas The Bella Twins were all on hand for the "Get Lucky For Lupus" Fundraiser at the Andaz Hotel in West Hollywood over the weekend, and the paparazzi were loving it!
Although the Twins and the 2-time Playboy Cover Girl didn't get together (at least not in front of cameras) at the event, they provided plenty of photo opportunities. The event was apparently a major success, no doubt aided by celebrity appearances such as Joanna Krupa (who was the hostess), Shanna Moakler, Jesse Metcalfe, and Jayde Nicole.

It's also too bad our friend, the legendary webmaster known as "Uncle Scoopy" wasn't there, because there were a ton of candidates for the prestigious DOUCHEBAG OF THE MILLENNIUM AWARDS, including MMA Wannabe Jose Canseco, Corey Feldman (with the most ridiculous hairstyle in decades), and Sanjaya Malakar. Hey, they all get a pass because they showed up for a good cause. Well, all of 'em except Canseco. He just wanted his photo taken.
CLICK HERE TO SEE ALL THE PHOTOS OF TORRIE WILSON AND THE BELLA TWINS AT THE "GET LUCKY FOR LUPUS" FUNDRAISER IN WEST HOLLYWOOD, CALIFORNIA!
---
IT'S MONDAY! YAY! WE LOVE MONDAYS! WE'RE SO HAPPY THAT …
OH WAIT … THAT'S NOT RIGHT … WE LOVE FRIDAYS … OH CRAP …
IT'S MONDAY! YUCK! WE HATE MONDAYS! OH WELL. JUST TO PASS
THE TIME, HERE'S THE 15 HOTTEST STORIES FROM THE WEEKEND
EDITION OF THE INTERNET. JUST PICK A PIC … AND CLICK!