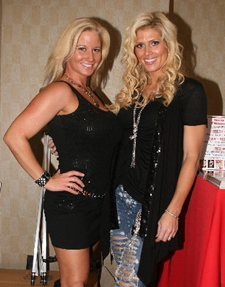 …and look who we found with Torrie!
Torrie Wilson has lead an interesting life. A champion fitness model, the bodacious blonde bombshell from Boise broke into the professional wrestling business with the now-defunct World Championship Wrestling promotion. When WCW was discarded by Time Warner in a virtual fire sale to Vince McMahon's World Wrestling Entertainment, the impossibly-perfectly-proportioned Torrie was one of WWE's very first talent acqusitions.

Now retired from the world of sports entertainment, Torrie is living in Houston, Texas, and makes occasional appearances at conventions and personal appearances. Our own Bob Mulrenin shot these exclusive photos of Torrie … not only of the gorgeous former Diva alone, but also with fellow former Monday Night Raw superstar Tammy "Sunny" Sytch. You can check out all things Torrie by following her on Twitter HERE

We're HusteTweeting about Torrie, and you're more than welcome to join the conversation. Follow THE HEYMAN HUSTLE on Twitter HERE, or write to us at hustleoncrave@gmail.com
You can subscribe to our YouTube channel HERE, with all the latest videos and behind the scenes specials. For you old school social networkers, we're on Facebook HERE and yes, we have a MySpace page HERE
CLICK ON THE PICS BELOW TO SEE THE ENTIRE GALLERY
FEATURING FORMER WWE DIVA TORRIE WILSON!

THE HEYMAN HUSTLE'S VERY OWN TRAINED MONKEYS ARE PROUD
TO PRESENT THE TOP 15 STORIES OF THE DAY, ALL CONVENIENTLY
LINKED HERE FOR YOUR REVIEW. NO NEED TO SURF THE WEB, WE
DID ALL THE HARD WORK FOR YOU. JUST PICK A PIC AND CLICK!