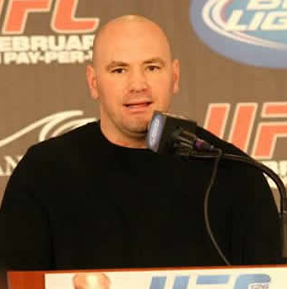 Dramatic Staredown Between UFC Middleweight Champion Anderson Silva and Vitor Belfort Highlights The Press Conference To Promote What The Brazilian Media is Calling "The Fight of The Century!"
The tension was definitely in the air when UFC Middleweight Champion Anderson Silva and Vitor Belfort locked eyes at the end of the pre-fight press conference for the sold out UFC 126 earlier today.

The press conference was attended by a flood of Brazilian media personnel, as this fight is being labeled "The Fight of the Century" in Brazil.
"He's a worthy contender," the champion grudgingly admitted, "He's in good condition and I'm ready for him."
While both fighters have avoided re-hashing their personal history in public, there is very bad blood between Silva and Belfort. The two were friends, but that was years ago, and now they clearly don't like each other a bit.

The story is rather dramatic. It happened a few years ago, when Belfort's life was turned upside down by a series of events that included the still-unsolved kidnapping and murder of his sister Priscila.

Vitor moved from Rio to Belo Horizonte. As the story goes, Silva, who was living in Rio at the time, immediately moved to Belo Horizonte to be at his close friend's side.

They were the best of friends, but something changed. Reportedly, Silva was shocked Belfort would accept a fight against him, considering all that has gone down between the two as being close as brothers. Belfort looked at a fight with Silva as an opportunity to get back to the top. Silva took the decision very personally.

The staredown between the two was so intense, UFC President Dana White couldn't stop talking about it.
"That was awesome," the Overlord of UFC said, "I love staredowns. And that was top 10 right there."
We're HustleTweeting about UFC 126, Silva vs Belfort, Forrest Griffin vs Rich Franklin, and Jon Jones vs Ryan Bader, so please take this opportunity to join the conversation! Follow The Hustle on Twitter HERE or write to us at hustleoncrave@gmail.com
You can also subscribe (for FREE, cheapos, absolutely FREE) to our Ultra High Quality YouTube Channel HERE, and don't forget to check out our old school social networking skills by visiting us on Facebook HERE and even on MySpace HERE
CLICK ON THE PICS BELOW TO SEE OUR LIVE COVERAGE PHOTOS
FROM THE UFC 126 PRE-FIGHT PRESS CONFERENCE!

EVERY SINGLE DAY, OUR CRACK STAFF OF OVERWORKED
UNDERPAID BUT HIGHLY TRAINED MONKEYS SCOUR THE
WORLD WIDE WEB IN SEARCH OF THE 15 HOTTEST STORIES
OF THE DAY, JUST TO BRIGHTEN YOUR DAY. COOL, RIGHT?
ALL YOU NEED TO DO IS PICK A PIC … AND CLICK!