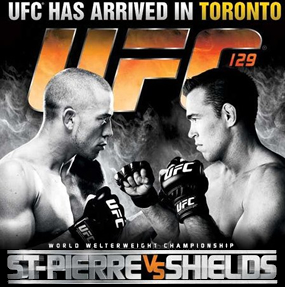 UFC's 1st-Ever Stadium Show Continues To Score Knockouts Over Existing Gate Records!
When UFC President Dana White announced the company's first-ever stadium show would take place at the former Skydome (now known as the Rogers Centre) in Toronto, it was a no-brainer the headliner would be Welterweight Champion Georges St-Pierre. For GSP to draw this size of a gate against former Strikeforce standout Jake Shields, it speaks volumes not only for GSP, but also for the drawing power of the world's most pre-eminent MMA brand, Ultimate Fighting Championships.

As we reported earlier in the week, the event was sold out through the UFC's pre-sale offering almost instantly. It was a staggering display of fandom.

CLICK HERE TO READ OUT ORIGINAL STORY ON THE 42,000+ TICKETS SOLD BY UFC THROUGH THEIR PRE-SALE EARLIER THIS WEEK!

UFC then made an additional 13,000 tickets available, bringing the total to 55,000, and those tickets were snatched up immediately as well. The old record for attendance was set just a few months ago, when 23,152 packed the Bell Centre to witness GSP's DESTRUCTION OF JOSH KOSHCHECK

With the luxury boxes not included in the gate figures yet, this event is already past the $10,000,000 mark.
How much further it will climb is anyone's guess. The event is absolutely positively sold out. UFC has a new record to break, and you can bet Ultimate Fight President Dana White is already envisioning how to get that job done, too!
We're HustleTweeting about UFC 129, and you're more than welcome to join us! Follow THE HEYMAN HUSTLE on on Twitter HERE or write to us at hustleoncrave@gmail.com
You can also subscribe (for FREE, cheapos, absolutely FREE) to our Ultra High Quality YouTube Channel HERE, and don't forget to check out our old school social networking skills by visiting us on Facebook HERE and even on MySpace HERE
CLICK ON THE PICS BELOW TO SEE EXCLUSIVE PHOTOS OF
GSP PROMOTING UFC ON THE MARILYN DENIS SHOW IN TORONTO

IT'S TIME FOR AN ALL NEW EDITION OF THE HOLLYWOOD CHARLIE
MEDIA WATCH, OUR DAILY TRAVEL ACROSS THE WORLD WIDE WEB.
OUR HIGHLY TRAINED MONKEYS HAVE PICKED OUT THE 15 WILDEST
STORIES FROM THE INTERNET FOR YOUR ASTUTE REVIEW. YOUR PART
IS VERY EASY. ALL YOU NEED TO DO IS PICK A PIC … AND CLICK!