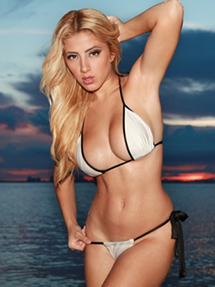 Valeria Orsini Is One Uber-Hot HustleTweeter!
She's a South Florida beach bunny who has caught the eyes of all the local photographers, the same dudes who usually shoot the world's hottest models and celebs on South Beach.

Valeria Orsini is the coolest hot chick in the The Sunshine State, as evidenced by the hysterical YouTube video that has everyone talking, Valerie upstaging legendary pornstars at the Exxxotica Convention.

You can check out that wild video HERE and you can even follow Valeria on Twitter HERE

Following Valeria makes sense, because this is, after all, a story about doing a regular feature called Hot Hustlas of Twitter, and she is on Twitter, which was our point to begin with. Or something like that.

Hey, don't forget to follow THE HEYMAN HUSTLE on Twitter, which you can do HERE

CLICK ON THE PICS BELOW TO SEE THE ENTIRE
SCORCHING HOT GALLERY FEATURING TWITTER'S VALERIA ORSINI!

THE HEYMAN HUSTLE'S VERY OWN TRAINED MONKEYS ARE PROUD
TO PRESENT THE TOP 15 STORIES OF THE DAY, ALL CONVENIENTLY
LINKED HERE FOR YOUR REVIEW. NO NEED TO SURF THE WEB, WE
DID ALL THE HARD WORK FOR YOU. JUST PICK A PIC AND CLICK!