Diamond Dave and The Boys Are Back Together, and We Have Video of Their Return To The Stage!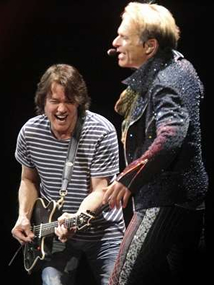 Diamond Dave and The Boys Are Back Together, and We Have Video of Their Return To The Stage!
Van Halen kicked off its North American headlining tour on Saturday, February 18 at the KFC Yum! Center in Louisville, Kentucky, and while it's obvious 57 year old David Lee Roth has had to adjust his routine for his aging vocal chords, the band tour the house down with a crowd-pleasing trip down Nostalgia Lane.
Van Halen's new album, "A Different Kind Of Truth", sold 187,000 copies in the United States in its first week of release to land at position No. 2 on The Billboard 200 chart.
"A Different Kind Of Truth" is the band's first full-length offering with original singer David Lee Roth since "1984" was released in January 1984.
Roth exited the group in 1985, a year after its "1984" album was released. According to Billboard.com, "1984" spent five weeks at No. 2 on The Billboard 200 – Van Halen's highest charting set with Roth. 1996's "Best Of Volume 1" hits album, which included two new songs with Roth, debuted at No. 1 with 233,000 sold in its first week. Van Halen's other four other number one's were their four studio albums with Roth's replacement, Sammy Hagar: "5150" (1986), "OU812" (1988), "For Unlawful Carnal Knowledge" (1991) and "Balance" (1995).
Van Halen's previous all-new album, 1998's "Van Halen III", debuted at No. 4 on the Billboard chart and was certified gold for sales of 500,000 copies. Not bad for most, but pretty sucky for Van Halen.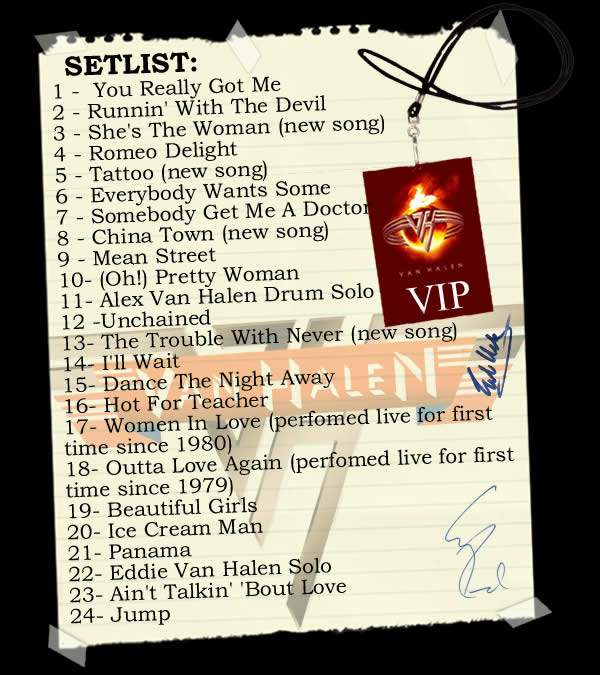 So the boys are back again, and while diehards probably still miss original bassist Michael Anthony, Eddie's son Wolfgang Van Halen has become a serious replacement. We're HustleTweeting about Van Halen's 2012 North American Tour, and you're more than welcome to join the conversation by following THE HEYMAN HUSTLE on Twitter HERE or write to us directly at hustleoncrave@gmail.com Hey, have you checked out the Hustle's Ultra High Quality You Tube Channel, with exclusive videos featuring BROCK LESNAR'S "HERE COMES THE PAIN" … ICE-T AND COCO's SEX SECRETS … THE ULTIMATE WELTERWEIGHT BAD ASS NICK DIAZ … CONTROVERSIAL TEEN SENSATION TAYLOR MOMSEN … LEGENDARY MMA PIONEER FRANK SHAMROCK … THE WALKING RIOT MISSY HYATT … if you're not subscribing, you're missing something … and by the ways cheapos, it's FREE! Yes, absolutely 100 percent FREE! What are you waiting for? Check it out HERE!
By the way, we're also old school social networkers, so check out our interactive skills on Facebook HERE and even on MySpace HERE. If you're on Friendster, GFY … and have a pleasant tomorrow!
CLICK ON THE PICS BELOW TO SEE THE ENTIRE EXCLUSIVE GALLERY
FEATURING DIAMOND DAVE AND EDDIE BACK TOGETHER AGAIN!

VAN HALEN 2012 PERFORMS "BEAUTIFUL GIRLS" IN LOUISVILLE, KENTUCKY!

IT'S TIME FOR AN ALL NEW EDITION OF THE HOLLYWOOD CHARLIE
MEDIA WATCH, OUR DAILY TRAVEL ACROSS THE WORLD WIDE WEB.
OUR HIGHLY TRAINED MONKEYS HAVE PICKED OUT THE 15 WILDEST
STORIES FROM THE INTERNET FOR YOUR ASTUTE REVIEW. YOUR PART
IS VERY EASY. ALL YOU NEED TO DO IS PICK A PIC … AND CLICK!