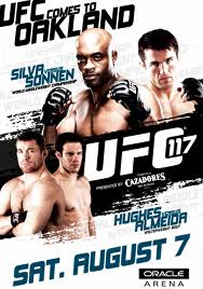 Plus A Recap Of Anderson Silva's Awesome Dis of Chael Sonnen At The Weigh-Ins!
The atmosphere for UFC 117 is awesome, as Anderson Silva dissed Chael Sonnen at the weigh-ins yesterday by turning every which way but towards Chael Sonnen. This is the 2nd day in a row that when the two went face-to-face, the Middleweight Champ showed his total disrespect for the brutal verbal lashing he has received from Sonnen.
CLICK HERE TO SEE ANDERSON SILVA'S FIRST DIS OF CHAEL SONNEN, FROM THE UFC 117 PRE-FIGHT PRESS CONFERENCE ON THURSDAY!

CLICK HERE FOR AN IN-DEPTH LOOK AT CHAEL SONNEN AND HIS AWESOME INTERVIEWS GOING INTO THE MAIN EVENT FOR TONIGHT'S UFC 117!

We're HustleTweeting tonight, discussing the entire UFC 117, with our own Hustler De Tuti Hustlers Paul Heyman personally offering commentary. Don't miss your chance to join the conversation! Follow THE HEYMAN HUSTLE on Twitter HERE
CLICK ON THE PICS BELOW TO SEE OUR ENTIRE GALLERY
FROM THE UFC 117 WEIGH-INS IN OAKLAND, CALIFORNIA!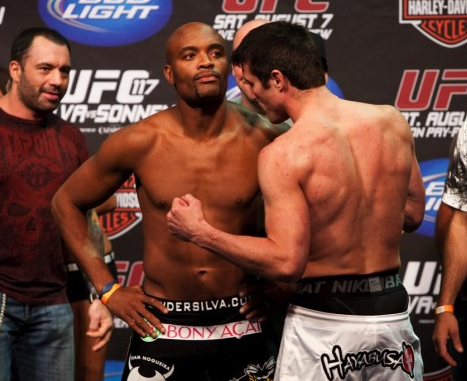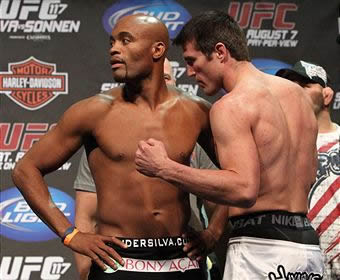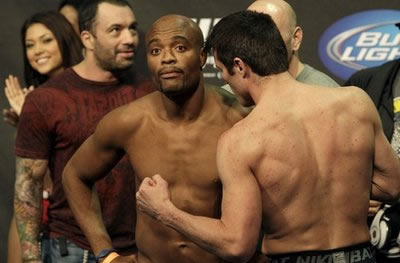 THE HEYMAN HUSTLE'S VERY OWN TRAINED MONKEYS ARE PROUD
TO PRESENT THE TOP 15 STORIES OF THE DAY, ALL CONVENIENTLY
LINKED HERE FOR YOUR REVIEW. NO NEED TO SURF THE WEB, WE
DID ALL THE HARD WORK FOR YOU. JUST PICK A PIC AND CLICK!