Monday Night Raw was highlighted by the surprise return of Nature Boy Ric Flair … and an epic, historic confrontation with WWE Champion CM Punk and our own Hustler De Tuti Hustlers Paul Heyman!
There's an old expression in sports entertainment, which goes something like this: Anything can happen. And more often than not, it does! Last night, WWE presented the annual Slammy Awards LIVE on the USA Network and across the world, and a global audience witnessed not only the return to the big time of the 16 time World Champion Ric Flair, but a memorable confrontation involving Flair, WWE Champion CM Punk, and our very own Hustler De Tuti Hustlers Paul Heyman
CLICK HERE TO PURCHASE YOUR VERY OWN #PaulHeymanGuy T-SHIRT!
According to WWE.com:
Seriously, who else could it have been? Who else could have awarded the supreme Slammy for a tumultuous 2012 than the limousine-ridin', jet-flyin', kiss-stealin', wheelin', dealin' son of a gun himself, Ric Flair? Flair returned to WWE after a lengthy hiatus and looked like he never missed a beat. And like everything he's ever done, "The Nature Boy's" return to WWE did not come to pass without a maelstrom of controversy after the two-time WWE Hall of Famer was awarded the Slammy by its voted recipient, John Cena. But before Flair could take the trophy in his perfectly manicured hands, WWE Champion CM Punk hobbled out to the stage to drop a "pipe bomb" on Flair, unleashing a tirade against "Naitch" and insisting he, not Flair or Cena, was the true Superstar of the Year.
So how does Ric Flair respond to such a thing? Why, he challenged Punk to a fight. The Second City Saint obliged, too, shattering one of his crutches over Flair's back before The Dirtiest Player in the Game countered by poking Punk in the eye and wrenching Paul Heyman into the Figure-Four Leglock. With Punk and Heyman dispatched, Flair took to the mic to address the Philadelphia crowd … until the crackling static of The Shield's theme spelled doom for Flair. "Come on down, boys," he said, clearly ready for more.
Of course, we're HustleTweeting about Ric Flair, and you're more than welcome to join the conversation by following us on twitter HERE or write us directly at hustleoncrave@gmail.com Hey, have you checked out the Hustle's Ultra High Quality You Tube Channel, with exclusive videos featuring OUR WORLD EXCLUSIVE WITH MIKE TYSON … BROCK LESNAR'S "HERE COMES THE PAIN" … ICE-T AND COCO's SEX SECRETS … TEEN SENSATION TAYLOR MOMSEN … UFC BAD BOY NICK DIAZ … THE WALKING RIOT MISSY HYATT if you're not subscribing, you're missing something … and by the ways cheapos, it's FREE! Yes, absolutely 100 percent FREE! What are you waiting for? Check it out HERE!
By the way, we're also old school social networkers, so check out our interactive skills on Facebook HERE and even on MySpace HERE. If you're on Friendster, GFY … and have a pleasant tomorrow!
CLICK ON THE PICS BELOW TO SEE THE ENTIRE OFFICIAL
GALLERY OF RIC FLAIR'S RETURN!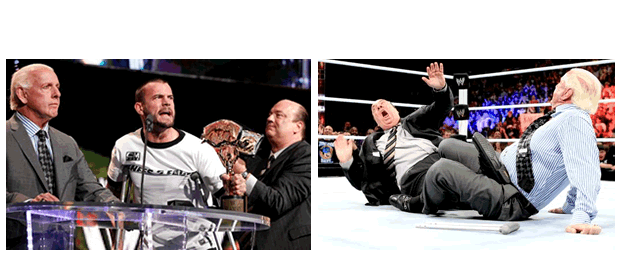 WE HERE AT THE HEYMAN HUSTLE HAVE ENSLAVED HIGHLY TRAINED
MONKEYS TO IGNORE THE FACT THEY ARE OVERWORKED AND UNDERPAID,
ALL IN THE NAME OF SCOURING THE WORLD WIDE WEB TO FIND THE FIFTEEN
MOST PROVOCATIVE STORIES ON THE INTERNET. ALL FOR YOU. NO ONE ELSE
BUT YOU. JUST YOU. AND ALL YOU NEED TO DO IS PICK WHICH PIC TO CLICK!