Even our very own Hustler De Tuti Hustlers Paul Heyman didn't see it coming … after Brock Lesnar demolished Roman Reigns, The Samoan Bad Ass bloodied The Beast … and then Seth Rollins made his move!
It was one of, if not the greatest WWE WrestleMania main events of all time. Roman Reigns came down first. Then the champ, along with his advocate (our boss, in someone's corner for the first time in a Mania main event in his amazing career). Paul introduced Brock as the entire stadium said "reigning defending" along with him. And then came the fight.
And what a fight it was.
Brock Lesnar delivered a heinous beating to Roman Reigns, but the enforcer of The Shield took it all and then came back with Superman Punch – Spear combos that had Lesnar reeling. And then, out of nowhere, Brock hit an F-5 … only for Seth Rollins to come down and cash in Money in the Bank, making the match a Triple Threat .. hit the Curb Stomp on both competitors … only for Lesnar to snatch Rollins for the F-5. Reigns hit a Spear which drove Lesnar out of the ring. Rollins landed on his feet. Hit a Curb Stomp and became the new reigning defending undisputed WWE Heavyweight Champion of the World.
By the way, we're also old school social networkers, so check out our interactive skills on Facebook HERE and even on MySpace HERE. If you're on Friendster, GFY … and have a pleasant tomorrow!
CLICK ON THE PICS BELOW TO SEE THE ENTIRE OFFICIAL WWE PHOTO GALLERY FEATURING THE MAIN EVENT OF WRESTLEMANIA!


SPECIAL LOOK BEHIND THE SCENES AT WRESTLEMANIA WEEK INCLUDING EXCLUSIVE FOOTAGE OF BROCK LESNAR NEVER SEEN BEFORE!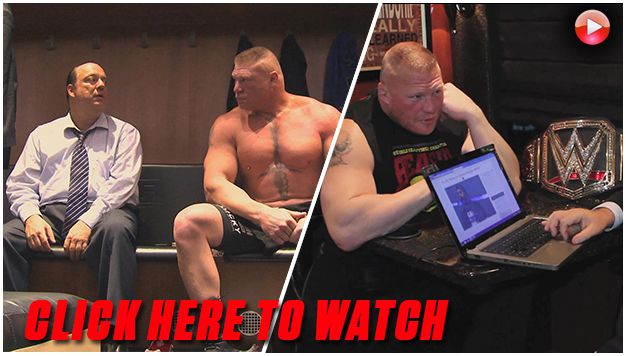 WE HERE AT THE HEYMAN HUSTLE HAVE ENSLAVED HIGHLY TRAINED
MONKEYS TO IGNORE THE FACT THEY ARE OVERWORKED AND UNDERPAID,
ALL IN THE NAME OF SCOURING THE WORLD WIDE WEB TO FIND THE FIFTEEN
MOST PROVOCATIVE STORIES ON THE INTERNET. ALL FOR YOU. NO ONE ELSE
BUT YOU. JUST YOU. AND ALL YOU NEED TO DO IS PICK WHICH PIC TO CLICK!