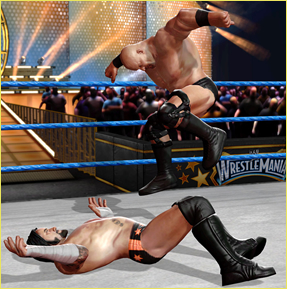 The Greatest Match That Has Never Happened Is Now Immortalized Exclusively For The Heyman Hustle!
Last week, THE HEYMAN HUSTLE posted a story based on THQ's brand new "2 Generations, 1 Ring" concept that is the major selling point for the WWE All Stars Video Game. The focus of the story? A fantasy matchup for the ages … STONE COLD STEVE AUSTIN VS CM PUNK!
Now, through an exclusive arrangement with the Hustle, THQ is making available custom wallpapers with the Greatest Match That Has Never Happened immortalized for your PC or laptop!
Of course, we're still HustleTweeting about the potential of Austin vs Punk, and you're more than welcome to join the conversation! Follow The Hustle on Twitter HERE or write to us at hustleoncrave@gmail.com
You can also subscribe (for FREE, cheapos, absolutely FREE) to our Ultra High Quality YouTube Channel HERE, and don't forget to check out our old school social networking skills by visiting us on Facebook HERE and even on MySpace HERE
GRAB YOUR FREE CUSTOM AUSTIN VS PUNK CUSTOM WALLPAPER BELOW!

IT'S TIME FOR AN ALL NEW EDITION OF THE HOLLYWOOD CHARLIE
MEDIA WATCH, OUR DAILY TRAVEL ACROSS THE WORLD WIDE WEB.
OUR HIGHLY TRAINED MONKEYS HAVE PICKED OUT THE 15 WILDEST
STORIES FROM THE INTERNET FOR YOUR ASTUTE REVIEW. YOUR PART
IS VERY EASY. ALL YOU NEED TO DO IS PICK A PIC … AND CLICK!