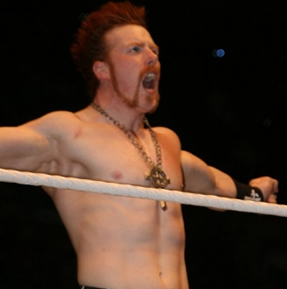 World Wrestling Entertainment sold out Madison Square Garden on Saturday night for what was a very well received house show in the New York market, just one night before the Fatal Fourway pay per view event at Nassau Coliseum in Long Island. The Garden show saw John Cena's final WWE Title defense (for now), as he defeated Sheamus only to have the NXT gang run in to prompt a show closing brawl. Jack Swagger defended the Smackdown version of the World Title against The Big Show, and Randy Orton defeated Edge. After the show, Cena addressed the crowd on the house mic, and hinted that Wrestlemania 30 may be held in Madison Square Garden.
CLICK ON THE PICS BELOW TO SEE THE ENTIRE
GALLERY OF WWE AT MADISON SQUARE GARDEN!

THE HEYMAN HUSTLE'S VERY OWN TRAINED MONKEYS ARE PROUD
TO PRESENT THE TOP 15 STORIES OF THE DAY, ALL CONVENIENTLY
LINKED HERE FOR YOUR REVIEW. NO NEED TO SURF THE WEB, WE
DID ALL THE HARD WORK FOR YOU. JUST PICK A PIC AND CLICK!