Our coverage of WWE Monday Night Raw from Oklahoma City continues as WWE Champion CM Punk and our very own Hustler De Tuti Hustlers Paul Heyman engage in a memorable confrontation with the announcer who is The Best In The World!
We're not just saying this because we work for one of these two people, but hasn't WWE Monday Night Raw gotten significantly more interesting since CM Punk and our very own Hustler De Tuti Hustlers Paul Heyman were paired up together?

Every since THAT FATEFUL SHOW-CLOSING DRIVEBY IN CHICAGO, every week has featured more and more of the villainous duo, spreading their evil deeds all around the flagship program for WWE.

So, while PUNK AND HEYMAN OPENED THE SHOW FROM OKLAHOMA CITY IN A WILD SEGMENT INVOLVING TEAM HELL NO, DOLPH ZIGGLER, VICKIE GUERRERO AND GENERAL MANAGER AJ LEE, you knew trouble was brewing when Jim Ross came out to the ring for Good Ol' JR Appreciation Night.
According to WWE.COM:
It was supposed to be J.R.'s night in Oklahoma City, as the WWE Hall of Famer was set to receive an "appreciation night" in his home state. But before Good Ol' J.R. could get his words of thanks in to the Chesapeake Energy Center crowd, "Cult of Personality" ripped through the loudspeakers and WWE Champion CM Punk made his presence known for the second time in the evening.
After dismissing Michael Cole and offering J.R. some strong words praise ("you're the best announcer we have and I respect the hell out of you"), Punk promptly snatched the thunder from the Okie native's hands and proceeded to demean and insult the assemled Oklahoma crowd, who he claimed "[didn't] know the first thing about respect." However, since J.R. does know about respect, The Second City Saint attempted to rope the Hall of Famer into teaching the WWE Universe about respect "by telling them that I'm the Best in the World."
J.R. didn't bite, turning Punk's intrusion on its head by saying The Second City Saint had been doing a fantastic job of making a "jackass" out of himself over previous weeks. Sincerely floored by J.R.'s insult, Punk turned bilious in a matter of moments, mocking J.R.'s accent and his famous cry of "STONE COLD! STONE COLD! STONE COLD!" and threatening Good Ol' J.R. with bodily harm if he refused to bend to Punk's will and declare him the Best in the World.
Again, J.R. didn't bite. And he threw Punk's anger right back in his face, asserting that, if the champion truly wanted to be the Best in the World, he would face John Cena at Hell in a Cell and prove himself in the place where rivalries are settled. Should Punk manage that, J.R. said, he would be the first one to offer the champion his proper congratulations.
By way of a reply, The Second City Saint knocked J.R.'s hat off his head and offered him an ultimatum: "You fight me or you leave."
Defeated, J.R. chose the path of peace and attempted to resume his place at the announce table, but Punk wasn't having it: He demanded that Ross leave the arena through the ramp, prohibited by order of the Best in the World from doing what he loved the most. Overpowered, J.R. made his walk back up the ramp, when the familiar cry of "FEED ME" boomed out and the Hall of Famer found himself a monstrous escort. With Ryback at his side, J.R. made his way back to the ring and Punk, once again at a loss for words, backed away from the titan's imposing stare for the second time in as many weeks.
Of course, we're HustleTweeting about Punk, Paul, JR and Ryback, and you're more than welcome to join the conversation by following THE HEYMAN HUSTLE on Twitter HERE or write to us directly at hustleoncrave@gmail.com Hey, have you checked out the Hustle's Ultra High Quality You Tube Channel, with exclusive videos featuring OUR WORLD EXCLUSIVE WITH MIKE TYSON … BROCK LESNAR'S "HERE COMES THE PAIN" … ICE-T AND COCO's SEX SECRETS … TEEN SENSATION TAYLOR MOMSEN … UFC BAD BOY NICK DIAZ … THE WALKING RIOT MISSY HYATT if you're not subscribing, you're missing something … and by the ways cheapos, it's FREE! Yes, absolutely 100 percent FREE! What are you waiting for? Check it out HERE!
By the way, we're also old school social networkers, so check out our interactive skills on Facebook HERE and even on MySpace HERE. If you're on Friendster, GFY … and have a pleasant tomorrow!
CLICK ON THE PICS BELOW TO SEE WWE's OFFICIAL PHOTOS DOCUMENTING
THE MEMORABLE CONFRONTATION BETWEEN CM PUNK AND GOOD OL' JR!

HERE'S THE OFFICIAL WWE HIGHLIGHT VIDEO OF WHAT HAPPENED WHEN
CM PUNK AND PAUL HEYMAN CONFRONTED JR IN OKLAHOMA CITY ON RAW!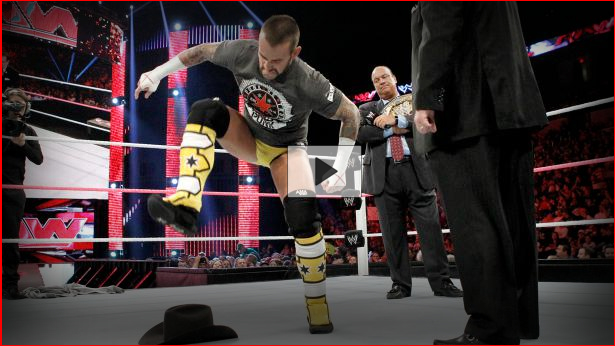 WE HERE AT THE HEYMAN HUSTLE HAVE ENSLAVED HIGHLY TRAINED
MONKEYS TO IGNORE THE FACT THEY ARE OVERWORKED AND UNDERPAID,
ALL IN THE NAME OF SCOURING THE WORLD WIDE WEB TO FIND THE FIFTEEN
MOST PROVOCATIVE STORIES ON THE INTERNET. ALL FOR YOU. NO ONE ELSE
BUT YOU. JUST YOU. AND ALL YOU NEED TO DO IS PICK WHICH PIC TO CLICK!