WWE Monday Night RAW from Memphis features our very own Hustler De Tuti Hustlers respectfully interrupting The Undertaker to make a point on behalf of his client Brock Lesnar!
When The Undertaker walked out to the ring in Memphis, Tennessee for WWE Monday Night RAW, we have to believe the last thing on his mind was that he would be interrupted … or praised to the high heavens (or maybe … ) by Paul Heyman! According to WWE.com:
Paul Heyman talked a big game last week, but The Undertaker casts a bigger shadow than the mad scientist's mouth could ever muster up. The Phenom, returning to Raw for the first time since accepting Brock Lesnar's open challenge for WrestleMania 30, vowed to keep his storied Streak alive and make it two-for-two against Paul Heyman Guys at The Show of Shows.
Or he would have, had Heyman not interrupted The Last Outlaw before he even got going, begging The Undertaker to abandon his contest with Lesnar and ensure his Streak's survival with The Anomaly. The Phenom wasn't exactly shaking in his boots, demanding Heyman bring Lesnar a dark warning of what's to come: "If he shows up in New Orleans, he will rest in peace."
Of course, we're HustleTweeting about The Undertaker vs Brock Lesnar at WrestleMania XXX, and you're more than welcome to join the conversation (and you have to realize, this is one ridiculously lively conversation) by writing us on twitter HERE or write to us directly at hustleoncrave@gmail.com  Hey, have you checked out the Hustle's Ultra High Quality You Tube Channel, with exclusive videos featuring OUR WORLD EXCLUSIVE WITH MIKE TYSON … BROCK LESNAR'S "HERE COMES THE PAIN" … ICE-T AND COCO's SEX SECRETS … MMA BAD BOY NICK DIAZ … the list goes on and on, so if you're not subscribing, you're missing something … and by the ways cheapos, it's FREE! Yes, absolutely 100 percent FREE! What are you waiting for? Check it out HERE!
By the way, we're also old school social networkers, so check out our interactive skills on Facebook HERE and even on MySpace HERE. If you're on Friendster, GFY … and have a pleasant tomorrow!
CLICK ON THE PICS BELOW TO SEE THE ENTIRE OFFICIAL WWE PHOTO
GALLERY FEATURING PAUL HEYMAN RUNNING DOWN THE IMPRESSIVE STATS
THAT DEFINE THE UNDERTAKER'S WRESTLEMANIA UNDEFEATED STREAK!

HERE IT IS … PAUL HEYMAN TALKS WITH THE UNDERTAKER!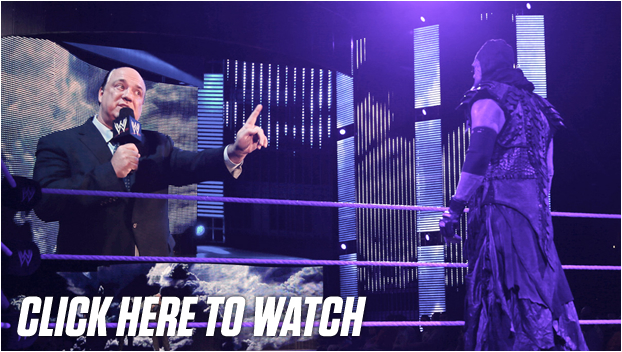 WE HERE AT THE HEYMAN HUSTLE HAVE ENSLAVED HIGHLY TRAINED
MONKEYS TO IGNORE THE FACT THEY ARE OVERWORKED AND UNDERPAID,
ALL IN THE NAME OF SCOURING THE WORLD WIDE WEB TO FIND THE FIFTEEN
MOST PROVOCATIVE STORIES ON THE INTERNET. ALL FOR YOU. NO ONE ELSE
BUT YOU.  JUST YOU. AND ALL YOU NEED TO DO  IS PICK WHICH PIC TO CLICK!