It's getting heated in Nashville, and it's only going to get hotter before the night is over!
About 35 minutes into this week's edition of WWE Monday Night Raw, our very own Hustler De Tuti Hustlers Paul Heyman stood in center ring, and introduced the reigning, defending WWE Champion CM Punk. It was decision time. Only Punk had other ideas. Unfortunately for our favorite pair of villains, so did WWE Chairman Vincent Kennedy McMahon.
According to WWE.com:
His week was up, and the hour of decision fell upon WWE Champion CM Punk this Monday on Raw. When the proverbial clock struck midnight on Punk's deadline to select his opponent at Hell in a Cell, who did The Second City Saint designate as the next challenger for his WWE Title? The answer, as it turned out, was …
Nobody.
Well, at least not yet.
The Voice of the Voiceless did not deign to name his next opponent at the appointed time, instead choosing to bask in his beatdown and humiliation of Mr. McMahon the previous week. "I slapped Vince McMahon in the face!" Punk grinned with Paul Heyman at his side. "I think it's safe to say that you will never see Vince McMahon compete in this very ring ever again," Punk said, "and for that, you can thank me" (needless to say, longtime McMahon rival Heyman did not hesitate to do so). Moving on to the business at hand, Punk continued to expound upon the perceived smear campaign against his reputation and began to contemplate the choice of the devil he knows vs. the devil he doesn't.
On the one hand, Punk explained, was the monstrous Ryback, who to him has proven little more than an interloper who inserted himself into a conflict he had no part in. On the other hand was Cena, who has fallen to Punk several times before. So, with his options laid out, Punk turned to the covered easel erected in the ring and prepared to unveil his opponent, when the "disrespectful" roars of the crowd prompted him to "go back to the drawing board" and take a little more time with his decision.
Would this decision sit well with the powers that be?
As it turned out, there was no chance in hell, because no sooner had Punk dismissed the notion of unveiling his opponent than Mr. McMahon strutted out to the stage and reiterated to the champion that his time had run out. "You blew it," McMahon sneered, proclaiming that he would be selecting the new No. 1 contender. "Your fate at Hell in a Cell is in my hands," The Chairman grinned. "Respect that."
Of course, we're HustleTweeting about this developing story on WWE Monday Night Raw, and you're more than welcome to join the conversation by following THE HEYMAN HUSTLE on Twitter HERE or write to us directly at hustleoncrave@gmail.com Hey, have you checked out the Hustle's Ultra High Quality You Tube Channel, with exclusive videos featuring OUR WORLD EXCLUSIVE WITH MIKE TYSON … BROCK LESNAR'S "HERE COMES THE PAIN" … ICE-T AND COCO's SEX SECRETS … TEEN SENSATION TAYLOR MOMSEN … UFC BAD BOY NICK DIAZ … THE WALKING RIOT MISSY HYATT if you're not subscribing, you're missing something … and by the ways cheapos, it's FREE! Yes, absolutely 100 percent FREE! What are you waiting for? Check it out HERE!
By the way, we're also old school social networkers, so check out our interactive skills on Facebook HERE and even on MySpace HERE. If you're on Friendster, GFY … and have a pleasant tomorrow!
CLICK ON THE PICS BELOW TO SEE THE OFFICIAL WWE PHOTO GALLERY
COVERING CM PUNK AND PAUL HEYMAN'S LATEST CONFRONTATION WITH
THE CHAIRMAN OF THE BOARD, VINCENT KENNEDY McMAHON ON RAW!

EVERYTHING STARTS OUT SO RIGHT … BUT ENDS SO WRONG … AS
WWE MONDAY NIGHT RAW BROADCASTS LIVE FROM NASHVILLE!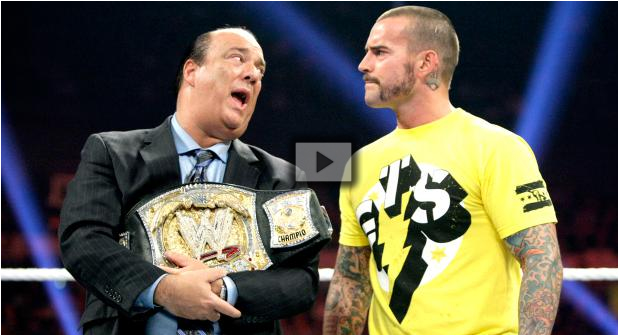 WE HERE AT THE HEYMAN HUSTLE HAVE ENSLAVED HIGHLY TRAINED
MONKEYS TO IGNORE THE FACT THEY ARE OVERWORKED AND UNDERPAID,
ALL IN THE NAME OF SCOURING THE WORLD WIDE WEB TO FIND THE FIFTEEN
MOST PROVOCATIVE STORIES ON THE INTERNET. ALL FOR YOU. NO ONE ELSE
BUT YOU. JUST YOU. AND ALL YOU NEED TO DO IS PICK WHICH PIC TO CLICK!