WWE Monday Night RAW viewers witness our very own Hustler De Tuti Hustlers try to pull a fast one to get himself out of this Sunday's Night of Champions … but The Best in the World EXPOSES what's really going on!
This Sunday, our boss Paul Heyman will team with WWE Intercontinental Champuon Curtis Axel in a handicap elimination match against CM Punk at the Night of Champions pay per view from Detroit, Michigan. After AXEL WAS DISQUALIFIED against Kofi Kingston earlier tonight, HEYMAN CLAIMED HE WAS INJURED BACKSTAGE … and then brought out his own personal doctor from New York to confirm that the match this Sunday would have to be postponed. Hmmmmmmmm …
According to WWE.com:
Paul Heyman might not be a fan of socialized healthcare, but thanks to the accompaniment of his personal physician Dr. Kirshenbaum, the suddenly (and conveniently) injured mad scientist had all the support he needed to withdraw from competition at Night of Champions … or so he thought. Not about to let Heyman off so easily, Raw GM Brad Maddox soon emerged with WWE doctor Michael Sampson in tow to give Heyman the live medical evaluation of the gimpy leg that would potentially clear Heyman from competition on Sunday.
Somewhat unsurprisingly, Sampson proclaimed Heyman a healthy man, and this was all the provocation that CM Punk needed to arrive, Kendo stick in hand, and commit some medical malpractice of his own by decimating Kirshenbaum while Heyman watched. Or while Heyman would have watched, anyway, had he not sprinted away on his inexplicably healed leg. It's a miracle!
Of course, we're HustleTweeting about this Sunday's WWE Night of Champions, and you're more than welcome to join the conversation by following us on twitter HERE or write us directly at hustleoncrave@gmail.com Hey, have you checked out the Hustle's Ultra High Quality You Tube Channel, with exclusive videos featuring OUR WORLD EXCLUSIVE WITH MIKE TYSON … BROCK LESNAR'S "HERE COMES THE PAIN" … ICE-T AND COCO's SEX SECRETS … TEEN SENSATION TAYLOR MOMSEN … UFC BAD BOY NICK DIAZ … THE WALKING RIOT MISSY HYATT if you're not subscribing, you're missing something … and by the ways cheapos, it's FREE! Yes, absolutely 100 percent FREE! What are you waiting for? Check it out HERE!
CLICK ON THE PICS BELOW TO SEE THE ENTIRE OFFICIAL WWE
PHOTO GALLERY FEATURING PAUL HEYMAN'S IN-RING MEDICAL EVALUATION!

CM PUNK EXPOSES PAUL HEYMAN'S MEDICAL CONDITION AS …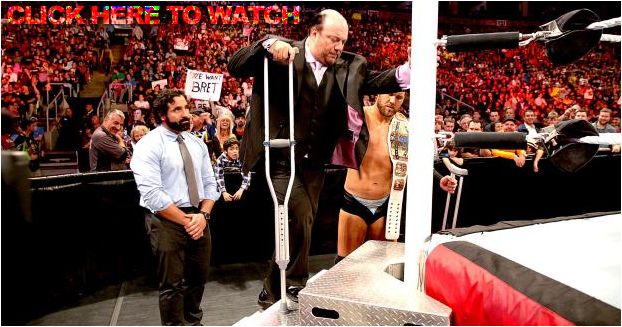 WE HERE AT THE HEYMAN HUSTLE HAVE ENSLAVED HIGHLY TRAINED
MONKEYS TO IGNORE THE FACT THEY ARE OVERWORKED AND UNDERPAID,
ALL IN THE NAME OF SCOURING THE WORLD WIDE WEB TO FIND THE FIFTEEN
MOST PROVOCATIVE STORIES ON THE INTERNET. ALL FOR YOU. NO ONE ELSE
BUT YOU. JUST YOU. AND ALL YOU NEED TO DO IS PICK WHICH PIC TO CLICK!