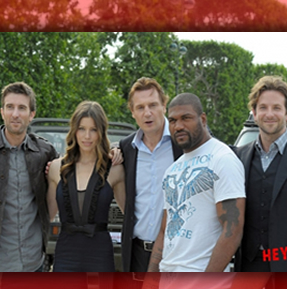 Former UFC Light Heavyweight Champion Quinton "Rampage" Jackson was showing no ill effects of his beating at the hands of Rashad Evans as the stars of the The A-Team movie rolled into Paris to promote the new flick. After taking a series of questions during a media conference, at which Rampage caused the nervous publicists to offer a loud sigh of relief when he said nothing controversial, the stars appeared at Champs de Mars in front of the Eiffel Tower for a fantastic photo opp. Of course, anytime you have JESSICA BIEL POSING FOR PHOTOGRAPHERS, that in and of itself is a fantastic photo opp. Add the fact that you are with Jessica Biel in the most romantic city in the world, and you wonder how long Quinton can contain the Rampage!
CLICK ON THE PICS BELOW TO SEE THE HEYMAN HUSTLE'S
EXCLUSIVE PHOTO GALLERY OF RAMPAGE JACKSON PROMOTING
"L'AGENCE TOUS RISQUES" (YES, THAT REALLY IS FRENCH FOR "THE
A-TEAM, AND IT REALLY IS WHAT THEY ARE CALLING IT) IN PARIS!

THE HEYMAN HUSTLE'S VERY OWN TRAINED MONKEYS ARE PROUD
TO PRESENT THE TOP 15 STORIES OF THE DAY, ALL CONVENIENTLY
LINKED HERE FOR YOUR REVIEW. NO NEED TO SURF THE WEB, WE
DID ALL THE HARD WORK FOR YOU. JUST PICK A PIC AND CLICK!