The Producer / Promoter of the High Flying DGUSA Promotion Offers You His Best Sales Pitch, and Says Goodbye As a Top Star Departs For WWE!
As we approach the Dragon Gate USA anniversary weekend live iPPVs (www.WWNLive.com) this Saturday and Sunday, I have a range of emotions. I'm happy and relieved we've built the brand as much as we have in the past three years. I'm thankful and appreciative to everyone who has supported and helped us. However, this weekend is going to be a little bittersweet, because it's the first DGUSA shows in almost two years without PAC.
PAC had an emotional goodbye at the Dragon Gate pay-per-view last weekend in Japan in front of 10,000 live fans. The Kobe World show closed with almost the entire locker room praising PAC for both his in-ring ability and out-of-the-ring personality. Tears were flowing. PAC is leaving his Dragon Gate home to venture to WWE.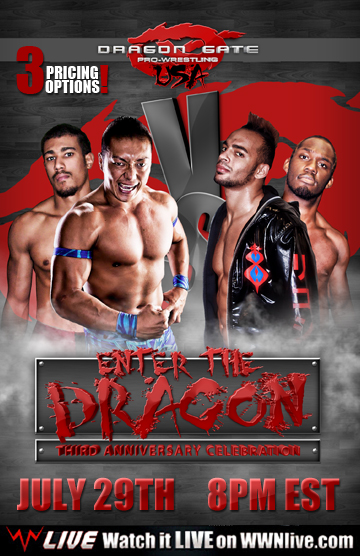 For those needing an introduction to PAC, I'll put it in terms WWE fans can relate to. Take the athleticism of Kofi Kingston, fearlessness of Evan Bourne, technical ability of Daniel Bryan and work ethic of CM Punk and roll it into one. That is PAC.
We've been very fortunate to have had a long run with PAC in Dragon Gate USA. We've brought him to intimate buildings in Manhattan, Chicago, Philadelphia, Toronto, Boston, Miami, Los Angeles, Atlanta, Indianapolis, Milwaukee and other towns all over the United States. The fans in attendance at those Dragon Gate USA shows were able to see the greatness of PAC up close in a personal setting. It was special.
Everyone in the Dragon Gate organization is happy to see PAC pursue the opportunity in WWE. We know where his true home will always be. Thank you PAC for all your contributions. Now this raises a question- who will step up and take PAC's spot?
We have several great candidates who are ready to show their stuff at the Dragon Gate USA events this Saturday in the Detroit area and this Sunday in Chicago (did I mention both these events will be broadcast worldwide on live iPPV at www.WWNLive.com with three pricing options starting at just $9.99?). Here's a look at the talent that you NEED to keep an eye on this weekend. These are today's new stars and I highly suggest following their careers starting now since the next PAC, CM Punk or Daniel Bryan will come out of DGUSA:
El Generico: I state with confidence that he is the most popular independent wrestler in the world for his dynamic wrestling style and puppy dog charisma. We have Generico in two "dream matches" this weekend as he teams with Samuray Del Sol vs. CIMA & AR Fox this Saturday and goes one-on-one against Akira Tozawa this Sunday. These are both going to be special matches. We are lucky to have an elite talent like Generico in DGUSA now.
Ricochet: He's already started to take PAC's thrown. There's only one person who can match the mind-blowing aerial skills of PAC and that's Ricochet. In fact, PAC vs. Ricochet was one of the best feuds last year in both the United States and Japan. Dragon Gate thinks so highly of Ricochet that he won three titles in his rookie year in Japan. Winning one title is unheard of. We have Ricochet in two feature matches this weekend so he can really display his skills. It's Ricochet vs. former DGUSA Champion YAMATO in the Detroit area and then Ricochet teams with Rich Swann to face CIMA & AR Fox for the vacant DGUSA Tag Team Titles in Chicago.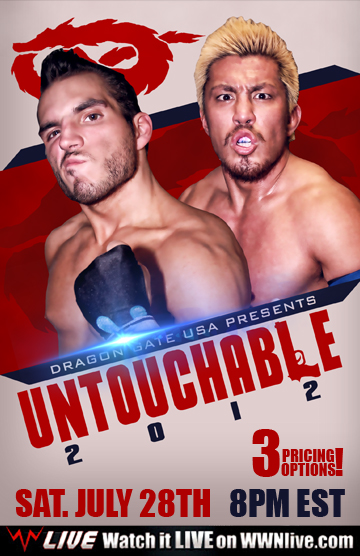 Rich Swann: He is as gifted athletically as anyone I have ever seen. Swann has already made his name in Japan as he's practically lived in the Dragon Gate dojo for the past year. He was established in DGUSA as part of the popular Ronin stable. He's just a baby in this business and there is no ceiling on how far he can go. This is his time to breakout.
AR Fox: He was dubbed the "1st round draft pick" when he started in DGUSA last year because he has all the tools of a superstar. Fox is coming off a violent feud against Sami Callihan. He is on the cusp of reaching main event level. It is going to be a lot of fun watching Fox develop into a true superstar.
Samuray Del Sol: This luchador first gained our attention at the DGUSA Seminar/Tryout two years ago. We monitored his progress while he traveled to Mexico. He has improved into a unique, exciting talent, who is being sought after worldwide by promotions in Mexico and Japan. He does things I've never before. His time is here to blow up.
Just writing this has gotten me pumped up for the shows this weekend. We will miss PAC, but we have an amazing roster to build towards the future. PAUL HEYMAN'S FAMOUS TWITTER RANT told today's wrestlers to "Stand Up" and "Get Noticed!" All these amazing talents will be given that opportunity on live iPPV this Saturday and Sunday night. I am sure they will all "SCORE" and I can't wait to watch it happen.

Dragon Gate USA presents "Untouchable 2012" this Saturday night at the Gibraltar Trade Center on 15525 Racho Road in Taylor, MI 48180 at. Go to www.DGUSA.tv for tickets and complete lineup
Dragon Gate USA presents "Enter The Dragon 2012: Third Anniversary Celebration" this Sunday evening at The Congress Theater on 2135 North Milwaukee Avenue in Chicago, IL 60647. Visit www.DGUSA.tv for tickets and complete lineup.
Both this Saturday and Sunday will be broadcast at www.WWNLive.com on worldwide live iPPV. Both iPPVs begin at 8pm EST. This means that DGUSA is on the traditional Sunday night wrestling PPV timeslot.
=============================================
Gabe Sapolsky is the producer and promoter of Dragon Gate USA. He is the former creative head of Ring of Honor Wrestling, and worked as one of Paul Heyman's chief assistants from 1993 to 2001 in the Original ECW promotion. After massive soul searching and probably a healthy dose of psycho therapy, Gabe is still considered out of his mind. In other words, he's perfect for the wrestling business! You can follow him on Twitter @BookItGabe

=============================================

IT'S TIME FOR AN ALL NEW EDITION OF THE HOLLYWOOD CHARLIE
MEDIA WATCH, OUR DAILY TRAVEL ACROSS THE WORLD WIDE WEB.
OUR HIGHLY TRAINED MONKEYS HAVE PICKED OUT THE 15 WILDEST
STORIES FROM THE INTERNET FOR YOUR ASTUTE REVIEW. YOUR PART
IS VERY EASY. ALL YOU NEED TO DO IS PICK A PIC … AND CLICK!