Our Very Own Hustler De Tuti Hustlers Paul Heyman Told You About Them Before Anyone Else. It Should Be No Surprise By Now. Da Man Knows When He's Looking at "The Next Big Thing!"
There's a new joke going around the music industry. Perhaps you've heard it already. It goes a little something like this:
There are two kinds of people: Those who have yet to see Brittany Howard sing, and the converted.
Brittany Howard is the 24-year-old lead singer for Alabama Shakes, and she seizes attention through gritty, powerful blues-rock vocals. And for those just learning about this powerful new force in music, please keep in mind that our very own Hustler De Tuti Hustler Paul Heyman buzzed you on their Hustle long before anyone else did.
CLICK HERE TO READ PAUL HEYMAN'S GLOWING ENDORSEMENT FOR ALABAMA SHAKES BEFORE IT WAS COOL TO LIKE ALABAMA SHAKES!
Howard owns the stage. No doubt about it. And it's the ease with which she commands attention, even when performing at the GRAMMY Awards with Elton John and Mavis Staples, that really screams out what a superstar she's going to be. Howard grew up in Athens, Alabama, a small community of 22,000 residents near the Tennessee border.
Her band first went bar-to-bar, gig-to-gig in Huntsville, then migrated north by 90 miles to Nashville, where Howard worked as a postal carrier during the day to pay for her music career at night.
"The very first time she opens her mouth, you wonder, 'Who IS this girl?' " said Dave Rossi, the Program Director for Lightning 100, a Nashville radio station that was an early Shakes supporter.
Alabama Shakes' debut album, "Boys & Girls," drew critical acclaim upon its release last April and later, three Grammy nominations. But awareness exploded this past month with Howard's Grammy appearance and the band's breakout performance on "Saturday Night Live."
That powerful one-two punch sent "Boys & Girls," which had peaked at number 8 on the Billboard albums chart, upward again, moving 23 spots to number 20.
Howard seems hesitant to tie the Shakes to a particular genre, and with good reason. "Boys & Girls," sounds retro with a 2012 polish, as one reviewer eloquently said the music covers a spectrum of popular music from Allman Brothers Southern dirt to Burt Bacharach California breeze without specifically resembling anyone.
The Shakes' influences "don't stop," Howard said. Vocally, "I like anyone who does what they want," Howard said, citing David Bowie, the late AC/DC singer Bon Scott and inventive indie musician Ariel Pink as examples. "Doing what they want naturally – that is who I respect."
Howard often gets compared to Janis Joplin. She's a big fan, but sees the comparison as too facile.
"I think people hear my voice and it is not a clean, pretty voice," Howard said. " 'Here is a woman who sings with power and is kind of raspy.' And they compare me to Janis Joplin. I don't think it's a fair comparison."
Of course, we're HustleTweeting about Alabama Shakes, and you're more than welcome to join the conversation by following the Hustle on Twitter HERE … Hey, we're also on Facebook HERE … and since we haven't updated our MySpace page even though Justin Timberlake has invested in your grandpa's social media, you're welcome to check out our much-ignored page HERE.
ALABAMA SHAKES ROCK THE NATION ON "SATURDAY NIGHT LIVE"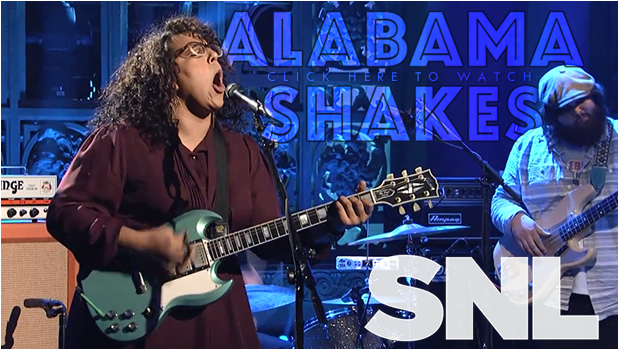 WE HERE AT THE HEYMAN HUSTLE HAVE ENSLAVED HIGHLY TRAINED
MONKEYS TO IGNORE THE FACT THEY ARE OVERWORKED AND UNDERPAID,
ALL IN THE NAME OF SCOURING THE WORLD WIDE WEB TO FIND THE FIFTEEN
MOST PROVOCATIVE STORIES ON THE INTERNET. ALL FOR YOU. NO ONE ELSE
BUT YOU. JUST YOU. AND ALL YOU NEED TO DO IS PICK WHICH PIC TO CLICK!