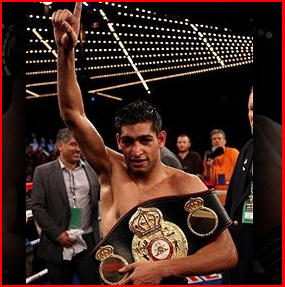 Amir Khan threw Paulie Malignaggi such a beating in their WBA Junior Welterweight Title Match, that when HBO's Max Kellerman interviewed the 29 year old Malignaggi after the fight, Malignaggi started wondering if he's old now.
We're not kidding.

Khan, who took a few shots himself, dominated Malignaggi with jabs, which was the legendary Freddie Roach's gameplan. At 1:25 of the 11th round, without any objection from a single person at the Wamu Theatre in Madison Square Garden, referee Steve Smoger called a TKO and awarded the victory to Khan.
There was no doubt it was the right call.

Khan dictated the pace in the early rounds, stalking Malignaggi, throwing punches with more potency and frequency. In the second round, Khan landed a four-punch combination that sent Malignaggi backward, and by the middle of the next round, Malignaggi's left eye appeared swollen.
But the jabs were the key. Freddie Roach strikes again.
The doctors examined Malignaggi, who begged to fight the 11th round. Halfway through the round, referee Smoger said it was time to call it an evening.
"We had to break him down slowly," Khan said. "From Round 9, I knew I wasn't letting him off. I had to keep the pressure on him."
CLICK ON THE PHOTOS BELOW TO SEE THE ENTIRE GALLERY
OF AMIR KHAN'S VICTORY OVER PAULIE MALIGNAGGI IN N.Y.C.
---
THE HEYMAN HUSTLE IS PROUD AND PLEASED TO PRESENT
THE HOLLYWOOD CHARLIE MEDIA WATCH, FEATURING THE
FIFTEEN BEST STORIES OF THE DAY FROM THE WORLD WIDE
WEB. ALL HERE, CONVENIENTLY CHOSEN FOR YOUR REVIEW
BY OUR HIGHLY REGARDED STAFF OF TRAINED MONKEYS.
YOUR PART, WE DARE SAY, IS EASY. JUST PICK A PIC AND CLICK!