The UFC Middleweight Champion Tries To Keep His Composure As FuelTV Reporter Ariel Helwani Presses For Answers
Ariel Helwani knew he scored a major video clip that would be reviewed from now until June when he pressed UFC Middleweight Champion Anderson "The Spider" Silva about the looming rematch with Chael Sonnen, which will take place in Brazil in June.
During an interview that aired on UFC TONIGHT, Silva was reluctant to talk about opponent from UFC 117, who dominated Silva like no other man in history for 4 1/2 rounds until Silva miraculously pulled a triangle choke out of nowhere with only 1 minute and 50 seconds left in the fight.
"Chael needs to train, no more talk just train. Going to Brazil, big problem … I don't care to talk about Chael Sonnen," Silva told Helwani with a passive aggressive smile. Chael Sonnen, of course, got in the last word. ON HIS TWITTER PAGE, the controversial antagonist hit hard. Tweeted Sonnen, "When I want your advice I'll beat it out of you, Stupid. Now go back to singing to hamburgers and telling Segal he's legit."
Of course, we're HustleTweeting about Silva vs Sonnen II, and you're more than welcome to join the conversation by following THE HEYMAN HUSTLE on Twitter HERE or write to us directly at hustleoncrave@gmail.com Hey, have you checked out the Hustle's Ultra High Quality You Tube Channel, with exclusive videos featuring BROCK LESNAR'S "HERE COMES THE PAIN" … ICE-T AND COCO's SEX SECRETS … THE ULTIMATE WELTERWEIGHT BAD ASS NICK DIAZ … CONTROVERSIAL TEEN SENSATION TAYLOR MOMSEN … LEGENDARY MMA PIONEER FRANK SHAMROCK … THE WALKING RIOT MISSY HYATT … if you're not subscribing, you're missing something … and by the ways cheapos, it's FREE! Yes, absolutely 100 percent FREE! What are you waiting for? Check it out HERE!
By the way, we're also old school social networkers, so check out our interactive skills on Facebook HERE and even on MySpace HERE. If you're on Friendster, GFY … and have a pleasant tomorrow!

WATCH ANDERSON SILVA'S DEMEANOR CHANGE DURING THIS FASCINATING INTERVIEW
WITH FUEL T V's ARIEL HELWANI ABOUT CHAEL SONNEN!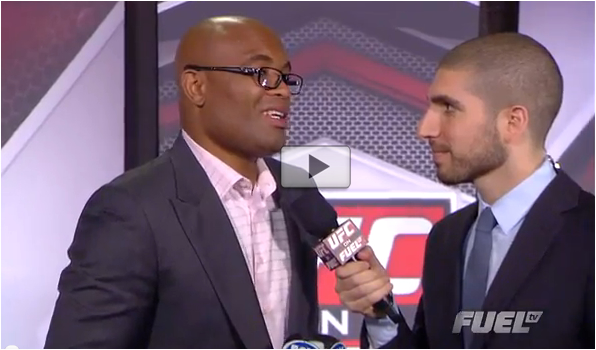 IT'S TIME FOR AN ALL NEW EDITION OF THE HOLLYWOOD CHARLIE
MEDIA WATCH, OUR DAILY TRAVEL ACROSS THE WORLD WIDE WEB.
OUR HIGHLY TRAINED MONKEYS HAVE PICKED OUT THE 15 WILDEST
STORIES FROM THE INTERNET FOR YOUR ASTUTE REVIEW. YOUR PART
IS VERY EASY. ALL YOU NEED TO DO IS PICK A PIC … AND CLICK!