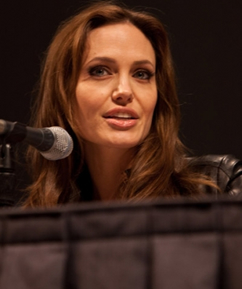 If You Think ComicCon Is Just A Bunch of Fanatical Nerds Who Dress Up As Their Favorite Characters, You Are 100 Percent Correct. But Then Angelina Showed Up In Leather!
Reporting live from ComicCon has been a wild experience, as our own Hustler De Tuti Hustler Paul Heyman is scheduled to announce a new project with American Original's Jeff Katz. But even the late breaking news that Paul would be here at ComicCon (I was scheduled to cover for THE HEYMAN HUSTLE even before Paul agreed to come out to San Diego) had to share the spotlight with Angelina Jolie attending the "Salt" panel in from of 7,000 fans who crammed in like sardines to catch a glimpse of Brad Pitt's super hot woman.

Angelina called Salt "a better action movie than any I've done in the past," and that says a lot, since she's actually been in some really good action films. I'd start to name them, but you're interested in the leather pics, right?

Hey, I don't blame you.

By the way (and quickly), we're HustleTweeting about Angelina's appearance, as well as Paul's appearance with Jeff Katz on the Top Cow panel, HERE
CLICK ON THE PICS BELOW FOR OUR EXCLUSIVE
COVERAGE OF ANGELINA JOLIE AT COMIC CON 2010

THE HEYMAN HUSTLE'S VERY OWN TRAINED MONKEYS ARE PROUD
TO PRESENT THE TOP 15 STORIES OF THE DAY, ALL CONVENIENTLY
LINKED HERE FOR YOUR REVIEW. NO NEED TO SURF THE WEB, WE
DID ALL THE HARD WORK FOR YOU. JUST PICK A PIC AND CLICK!