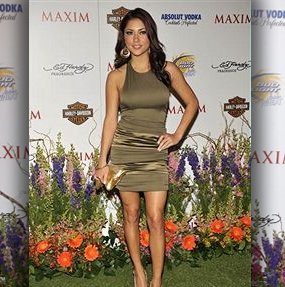 I learned a very valuable lesson one day from our own Hustler De Tuti Hustlers Paul Heyman. During a meeting in the Looking For Larry Productions (parent company of THE HEYMAN HUSTLE) offices, Paul said "it doesn't matter if you make a list … it matters who COULDN'T make the list, but you did!"
UFC Octagon ring card girl Arianny Celeste is number 23 ("with a bullet," we might add) on Maxim's Annual Hot 100 this year, and we anticipate the luscious latina will place even closer to number 1 next year. The magazine/website held a party to celebrate the release of this year's list, and Arianny looked even more stunning than usual.

To see the entire gallery of Arianny at the Maxim Hot 100 Party, CLICK HERE
---
THE HOLLYWOOD CHARLIE MEDIA WATCH IS PRESENTED TODAY
IN HARDCORE HUSTLEVISION, SERVING YOUR EXTREME WEB
NEEDS SINCE 2009. WOW. THAT'S A LOT OF EXPERIENCE, ISN'T
IT? IT ISN'T? DAMN. OK, GIVE US A BREAK. COME ON, OUR TEAM
OF HIGHLY TRAINED MONKEYS WORKED HARD ON THIS. IT'S NOT
LIKE YOUR PART IS ALL THAT HARD. JUST PICK A PIC AND CLICK!