Say what you want about Aubrey O'Day, but the uber-talented blonde bombshell knows how create an interest and buzz in everything she does.
No other episode from Season One of THE HEYMAN HUSTLE came close to getting the feverish response that Aubrey's electric appearance generated. From her frank discussion about her own body, to showing off her brand new tattoos, to her dance floor antics with supermodel Jaslene Gonzalez, to giggling on the red carpet with fashion icon Richie Rich, to blatantly flirting with Paul himself, Aubrey made sure every moment was a topic for viewer discussion.
"It reminded me of when Madonna would go on David Letterman's show and try to make him blush," tated the Hustle's Ron Buffone, "Aubrey went wild, and brought out the best in Paul. I know Paul knew what he was doing, and I can attest that Aubrey was a very smart marketer by her performance!"
Since the Hustle episode, Aubrey has ventured to Las Vegas, where she has joined the cast of Sin City's steamiest show PEEPSHOW! Aubrey will be taking over the coveted role of "Peep Diva," the role once played by Mel B. Formerly on MTV's 'Making the Band" Aubrey is no stranger to having camera's document milestones in her life, and Las Vegas will be no different! Cameras will document the multi-platinum artist's time on the strip as she embarks on her solo career. Since her appearance on the Hustle, Aubrey has seen the top of the Billboard charts, headlined a Broadway show, and now she's taking over the Vegas strip!
Aubrey granted the Hustle photographers exclusive access to her penthouse at Planet Hollywood in Sin City, and we invite you to check out the great pics. "I loved doing the Hustle," Aubrey stated while posing in her lavish suite, "my fans are going to blown away by what comes next!"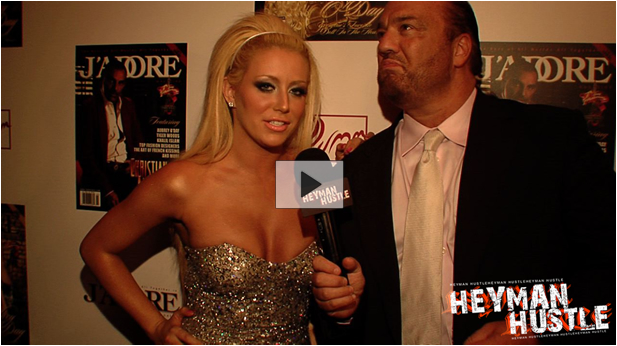 Check out Aubrey on the Hustle (CLICK HERE) and don't forget the exclusive photos, too (CLICK HERE). We think it shows a young performer who has seen staggering heights, and yet, is just beginning her journey.
CLICK THE THUMBS BELOW FOR MORE!

WE HERE AT THE HEYMAN HUSTLE HAVE ENSLAVED HIGHLY TRAINED
MONKEYS TO IGNORE THE FACT THEY ARE OVERWORKED AND UNDERPAID,
ALL IN THE NAME OF SCOURING THE WORLD WIDE WEB TO FIND THE FIFTEEN
MOST PROVOCATIVE STORIES ON THE INTERNET. ALL FOR YOU. NO ONE ELSE
BUT YOU. JUST YOU. AND ALL YOU NEED TO DO IS PICK WHICH PIC TO CLICK!