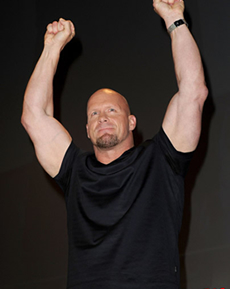 It's Austin vs The Real Rock!
As part of THE HEYMAN HUSTLE's exclusive 360 coverage of ComicCon 2010 in San Diego, we got a F'N hot one for you.
While promoting The Expendables, movie star / director / genetic freak Sylvester Stallone grabbed a headlock on ol' Stone Cold Steve Austin.
The result?
One hell of a photo op!
Our own Hustler De Tuti Hustlers Paul Heyman is scheduled here at ComicCon today, more details on the Hustle's Twitter page HERE
We have more photos of Austin at ComicCon, including great shots of him with Bruce Willis and with Dolph Lundren HERE
You can follow The Rattlesnake on Twitter (but don't get too close!) HERE

THE HEYMAN HUSTLE'S VERY OWN TRAINED MONKEYS ARE PROUD
TO PRESENT THE TOP 15 STORIES OF THE DAY, ALL CONVENIENTLY
LINKED HERE FOR YOUR REVIEW. NO NEED TO SURF THE WEB, WE
DID ALL THE HARD WORK FOR YOU. JUST PICK A PIC AND CLICK!