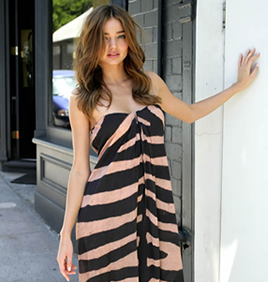 She's unquestionably one of the most beautiful women on the entire planet, and yet with each photo shoot Victoria's Secret's Miranda Kerr looks better and better. How does she do it?
THE HEYMAN HUSTLE has obtained Miranda's latest (and greatest) photo session, this time labeled "The Quentin Jones Collection" (not that you really care … I mean, if it were named The Dog Poop Collection, would you avoid looking at the pics? Of course not).

Plus, our overworked (and yet, so ironically, underpaid) trained monkeys have submitted their suggestions for the top 15 stories on the web of the day, so be sure to check out the Media Watch underneath this story as well.

Hey, not only does beauty have its price, but so does looking at (and drooling over) beauty as well!
CLICK ON THE PHOTOS BELOW TO SEE
THE ENTIRE UNCENSORED GALLERY OF
THE AWESOME AUSSIE MIRANDA KERR!
---
IF YOU'RE DAY IS PRETTY AWFUL
AND YOUR NIGHTS ARE AWFULLY SAD
BE GLAD YOU'RE NOT TIGER'S AGENT
SEE? THINGS AIN'T ALL BAD!

PICK A PIC AND CLICK … TRUST US, YOU'LL BE HAPPY!