This Is YOUR Chance To Go Live and Interactive With Paul As Our Legions of HustleTweeters Will Discuss Josh Barnett vs Daniel Cormier in the Finals of the Grand Prix Tournament, and Gilbert Melendez vs Josh Thomson's Long-Awaited Trilogy Fight!
Former UFC Heavyweight Champion Josh Barnett faces the undefeated Daniel Cormier, a member of the 2004 and 2008 U.S. Olympic wrestling team, in the finals of the Strikeforce Heavyweight Grand Prix tonight at 10 pm Eastern on Showtime from the HP Pavilion in San Jose, California … and our own Hustler De Tuti Hustlers Paul Heyman will be LIVE with you tonight on Twitter, HustleTweeting his ass off and giving you the chance to be Interactive with The Mad Scientist himself!
CLICK HERE TO JOIN THE CONVERSATION BY FOLLOWING "THE HEYMAN HUSTLE" ON TWITTER RIGHT NOW!
Strikeforce Lightweight Champion Gilbert "El Nino" Melendez will face Josh Thomson in their long-awaited trilogy fight tonight at Strikeforce: Barnett vs. Cormier, as well. "El Nino" comes out of the Northern California's Cesar Gracie Camp, which includes the Nick and Nate Diaz, as well as Jake Shields, while Thomson trains at American Kickboxing Academy in San Jose.
"It's bragging rights for the Bay, for sure, and that always brings the best out of two guys," Melendez stated. "Josh is talented. I sparred him a lot coming up. Our last fight was the last time we locked horns, really. It's cool the way it is. I don't really hate the guy. We're actually kind of cool. You can't help but respect a guy that's gone through so much with you inside the cage, but I'm still motivated and I'm still pumped up."
In comparing himself to his rival, Melendez stated, "I think now I've become more tactical, more skillful and I'm excited to show that, but I don't see that from Josh. I see a tough opponent, but I don't see anything different."
CHECK OUT THE LOOKING4LARRY PRODUCTION OF "EL NINO" STARRING
STRIKEFORCE LIGHTWEIGHT CHAMPION GILBERT MELENDEZ!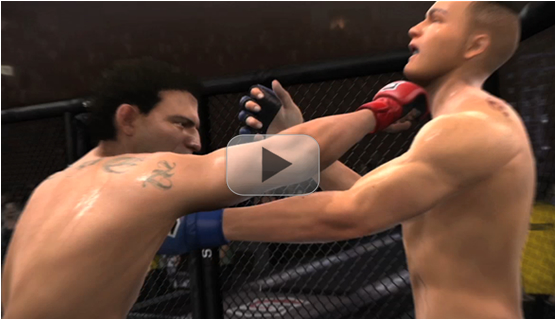 IT'S TIME FOR AN ALL NEW EDITION OF THE HOLLYWOOD CHARLIE
MEDIA WATCH, OUR DAILY TRAVEL ACROSS THE WORLD WIDE WEB.
OUR HIGHLY TRAINED MONKEYS HAVE PICKED OUT THE 15 WILDEST
STORIES FROM THE INTERNET FOR YOUR ASTUTE REVIEW. YOUR PART
IS VERY EASY. ALL YOU NEED TO DO IS PICK A PIC … AND CLICK!