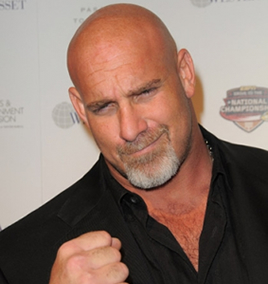 Bill Goldberg attended a sports charity event over the weekend, and the former WCW sensation (there weren't that many of them, so he really stood out) hammed it up for the cameras. Must be a kinder, gentler Goldberg for Twenty Ten!
Goldberg posed for photographs, including lifting up comedienne Carol Leifer, which must be done with a certain sense of humor. So, here's Bill, biding the time before Donald Trump's Celebrity Apprentice hits NBC in March.
CLICK ON THE PHOTOS BELOW
TO SEE THE ENTIRE GALLERY OF GOLDBERG!
---
THE HEYMAN HUSTLE PROUDLY PRESENTS THE ALL NEW
AND IMPROVED HOLLYWOOD CHARLIE MEDIA WATCH FOR
MONDAY, JANUARY 18, 2010. HOLY S#!T, I CAN'T BELIEVE
IT'S REALLY TWENTY TEN, AND MY WHOLE LIFE IS ABOUT
SITTING HERE TYPING THESE MEDIA WATCH INTROS.

WHAT'S A STRUGGLING TRAINED MONKEY TO DO? IF ONLY "PLANET
OF THE APES" WAS REAL. PLEASE, JUST PICK A PIC … AND CLICK!