AMC airs a 75 minute conclusion to one of the greatest series in the history television!
AMC airs a 75 minute conclusion to one of the greatest series in the history television!
If we're left with anything at the conclusion of the BREAKING BAD television series, it's that Walter White saw his plan though to the end, and the series, unlike many others, never even came close to jumping the shark. The series finale, entitled FELINA, was written and directed by BREAKING BAD and was 75 minutes of television gold, as Walt makes it back to New Mexico from New Hampshire, a turn of events foreshadowed in the fifth season premiere last summer. At the start, Walt (played magnificently by Bryan Cranston) visits his former science collaborators Elliott and Gretchen, breaking into their home and forcing them to take his nine million dollars to give to Walter Jr. ( played by R.J. Mitte) and Skyler (played by the awesome Anna Gunn) in a trust after he's dead to avoid the feds getting the money. Right there, the answer is given. He did it to give money to his family upon his death. That's going to happen. The only thing that lingered was "what would happen to Walt?"
Elliott and Gretchen, by the way, think Walt is there to hurt them. Elliott pulls what appears to be a butter knife. "Elliott, if we're gonna go that way, you'll need a bigger knife," Walt says, defusing the situation. Eventually, the wealthy pair agree to Walt's scheme. Then Walt has hit men target the pair, threatening them that if Walt's family doesn't get the money, they will be targeted and taken out.
Jesse (the co-star of the series, played by Aaron Paul) dreams of working as a carpenter but it turns out he's still being held captive to make meth by the Nazi thugs, who weren't content to take Walt's millions and kept making blue meth. Meanwhile, Lydia (played by Laura Fraser) meets with Todd (played by Jesse Plemons) and Walt shows up, freaking them both out, especially the easily-spooked Lydia. We see Lydia use a packet of Stevia, as usual, but it turns out Walt filled it with poison.
Walt visits Skyler and tells her whee Hank (Dean Norris) and his partner are buried, telling her to trade that for a deal with the prosecutor. Nice tie-up for the end of the series. Very well done, bravo!
"If I have to hear one more time that you did this for the family…" Skyler says.
"I did it for me," Walt replies. "I liked it. I was good at it. And I was really … I was alive."
Skyler allows Walt to see his infant daughter, Holly, before he leaves just as Walter Jr. returns home from school. Walt watches his son approach the blocky, lower-class apartment where the boy now lives. Walt looks like a man who is utterly defeated.
Walt goes to visit Todd and his Nazi crew, the same team that murdered Hank and his partner against Walt's wishes. Walt accuses the leader of being a liar about working with Jesse, so they bring Jesse to Walt and Walt knocks Jesse to the ground in as the machine gun he set up is activated by remote control, killing the whole crew, except Todd and the leader Jack. After the bullets stop flying, Jesse violently kills Todd, while Walt shoots and kills Jack with a cold hearted bullet to the head.
Walt gives his gun to Jesse and gives him the green light to kill Walt himself. The series has truly reached its conclusion here, right?
"Do it," Walt says. "You want this."
Walt admits he is ready to die. "I want this!"
Jesse refuses, but he also notices Walt has been shot by one of his own bullets.
Lydia calls Todd's cell. This is too good to be true. Walt answers and tells Lydia he put ricin in her Stevia packet. She is dying.
Jesse speeds away with an expression of maniacal glee on his face.
Meanwhile, Walt wanders into the cook lab, stares at his creation and dies from the bullet wound just as the police arrive. "Baby Blue" by Badfinger, with the opening lyrics "Guess I got what I deserved" plays as the series fades to black.
There's no such thing as perfect, but this series finale is as close as we may ever get to it.
YOU CAN OWN EVERY SINGLE EPISODE OF "BREAKING BAD" ON DVD OR BLU-RAY … AND AT A SERIOUSLY DISCOUNTED PRICE ONLY FOR "THE HEYMAN HUSTLE" … CLICK HERE NOW!
Of course, we're HustleTweeting about BREAKING BAD, and you're more than welcome to join our conversation by following THE HEYMAN HUSTLE and telling us what YOU think RIGHT F'N HERE! We got the whole social media thing covered, so check out the Hustle's Ultra High Quality You Tube Channel, with exclusive videos featuring OUR WORLD EXCLUSIVE WITH MIKE TYSON … BROCK LESNAR'S "HERE COMES THE PAIN" … ICE-T AND COCO's SEX SECRETS … TEEN SENSATION TAYLOR MOMSEN … UFC BAD BOY NICK DIAZ … THE WALKING RIOT MISSY HYATT if you're not subscribing, you're missing something … and by the ways cheapos, it's FREE! Yes, absolutely 100 percent FREE! What are you waiting for? Check it out HERE!
HERE'S HOW IT ALL ENDS!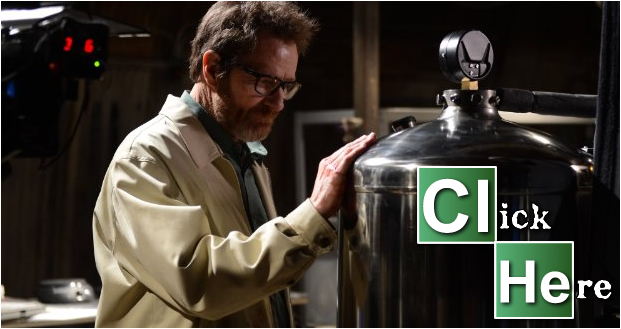 WE HERE AT THE HEYMAN HUSTLE HAVE ENSLAVED HIGHLY TRAINED
MONKEYS TO IGNORE THE FACT THEY ARE OVERWORKED AND UNDERPAID,
ALL IN THE NAME OF SCOURING THE WORLD WIDE WEB TO FIND THE FIFTEEN
MOST PROVOCATIVE STORIES ON THE INTERNET. ALL FOR YOU. NO ONE ELSE
BUT YOU. JUST YOU. AND ALL YOU NEED TO DO IS PICK WHICH PIC TO CLICK!