It's the second-to-last episode ever of "Breaking Bad" … and once again, creator Vince Gilligan has us on the edge of our seats!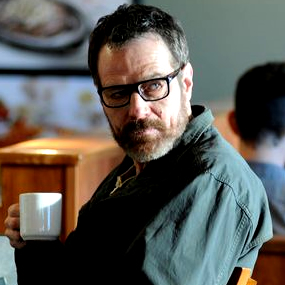 It's the second-to-last episode ever of "Breaking Bad" … and once again, creator Vince Gilligan has us on the edge of our seats!
"I'm going to kill Jack and his entire crew, and I'm going to take back what is mine, and give it to my children. And then, and only then, am I through. Do you understand?" Walter White to Saul Goodman

"I understand I'm in terrible trouble. I understand that you will use everything in your power against me and my children unless … unless I give you Walt. But the truth is, I can't give you what you want. I don't know where he is." Skyler, speaking to her lawyer … and a roomful of DEA Agents

Why are you still alive? Why won't you just die already? Just die!" Walt Jr., on the phone with Walt before hanging up

On the very same night BREAKING BAD took home Emmy wards for Outstanding Drama Series and Supporting Actress for Anna Gunn, the AMC series aired its penultimate episode. Entitled "Granite State" the show had a number of jaw dropping bombshells.

Saul Goodman is heading to Nebraska with a brand new identity, but not before holing up with Walt below a vacuum-repair shop. Walt asks for his help as he seeks revenge on Uncle Jack and company, but Saul will have none of it. He insists that Skyler and his children would be much better off if Walt just turned himself in to the authorities.

Marie heads back to her house. It's been ransacked. She splits. Skyler gets a visit from Todd and his sk-masked associates, a visit designed to keep Skyler from ever mentioning Lydia to the DEA. Todd, meanwhile, rewards Jesse with some Ben & Jerry's ice cream for cooking up a batch of meth that was 96% pure. But after Jesse tries to escape his underground prison, Todd forces him to watch as he shoots Andrea in the head right outside her house.

Walt moves up to New Hampshire, the granite state of the episode's title. Although he gets some satisfaction from putting the old Heisenberg hat back on, he is clearly suffering. His cough is worsening, and the show made the point of letting you know he's getting lonely. Walt has become so thin that his wedding ring falls off his finger, so he strings it around his neck. He even pays the vacuum man $10,000 just to play cards with him for an hour, after receiving chemo treatments via IV in his cabin. Walt is then crushed when he heads into town and uses a bar pay phone to call "Flynn" aka Walt Jr. In an act of desperation, Walt tries to reconcile with his son by offering to send him money. His son wishes death on Walt.

Then, in another shocking moment, Walt calls up the DEA and gives them his name, only to leave the phone hanging as he sits down for a drink. He watches as his former colleagues trivialize his achievements during a Charlie Rose interview on TV. DEA agents swarm the bar, but Walt has already bolted. For now. Maybe.

CLICK HERE FOR AN EXCLUSIVE SPECIAL OFFER … 30 PERCENT OFF THE BRAND NEW BOX SET FEATURING THE ENTIRE "BREAKING BAD" SERIES ON DVD AND/OR BLU-RAY!

Of course, we're HustleTweeting about BREAKING BAD, and you're more than welcome to join the conversation by following THE HEYMAN HUSTLE and telling us what YOU think RIGHT F'N HERE! We got the whole social media thing covered, so check out the Hustle's Ultra High Quality You Tube Channel, with exclusive videos featuring OUR WORLD EXCLUSIVE WITH MIKE TYSON … BROCK LESNAR'S "HERE COMES THE PAIN" … ICE-T AND COCO's SEX SECRETS … TEEN SENSATION TAYLOR MOMSEN … UFC BAD BOY NICK DIAZ … THE WALKING RIOT MISSY HYATT if you're not subscribing, you're missing something … and by the ways cheapos, it's FREE! Yes, absolutely 100 percent FREE! What are you waiting for? Check it out HERE!

WE HERE AT THE HEYMAN HUSTLE HAVE ENSLAVED HIGHLY TRAINED
MONKEYS TO IGNORE THE FACT THEY ARE OVERWORKED AND UNDERPAID,
ALL IN THE NAME OF SCOURING THE WORLD WIDE WEB TO FIND THE FIFTEEN
MOST PROVOCATIVE STORIES ON THE INTERNET. ALL FOR YOU. NO ONE ELSE
BUT YOU. JUST YOU. AND ALL YOU NEED TO DO IS PICK WHICH PIC TO CLICK!