The Embattled Anchor Responds To The Growing Controversy!
NBC News Anchor Brian Williams announced today that he would be stepping away from the network's flagship evening news show for a period of time. The celebrated newsman, who replaced Tom Brokow as the lead anchor for NBC News, released a brief statement to NBCnews.com on Saturday, stating "In the midst of a career spent covering and consuming news, it has become painfully apparent to me that I am presently too much a part of the news, due to my actions."
Williams revealed that he had "decided to take myself off of my daily broadcast for the next several days" and that he would be replaced by weekend anchor Lester Holt.

"Upon my return, I will continue my career-long effort to be worthy of the trust of those who place their trust in us," he added in the statement.

Williams has been the target of intense venom after he apologized Wednesday for claiming he came under enemy fire in a helicopter while reporting in Iraq in 2003, while he was being groomed to take over for Brokow. Since that admission, more reports emerged questioning the veracity of other stories Williams has told over the years, including his coverage of the 2006 coverage of Hurricane Katrina.

On Friday, NBC News President Deborah Turness announced the network would be conducting an internal probe of the Iraq helicopter story. "As you would expect, we have a team dedicated to gathering the facts to help us make sense of all that has transpired," Turness wrote in a memo. "We're working on what the best next steps are."

CLICK HERE FOR INFO ON PAUL HEYMAN'S WWE NETWORK APPEARANCE ON BRIAN WLLIAMS!

Of course, we're HustleTweeting about Brian Williams (and also Paul Heyman's appearance on WWE Network about Brian Williams), and you're more than welcome to join the conversation by following the Hustle on Twitter HERE or write to us directly at hustleoncrave@gmail.com Hey, have you checked out the Hustle's Ultra High Quality You Tube Channel, with exclusive videos featuring OUR WORLD EXCLUSIVE WITH MIKE TYSON … BROCK LESNAR'S "HERE COMES THE PAIN" … ICE-T AND COCO's SEX SECRETS … MMA BAD BOY NICK DIAZ … the list goes on and on, so if you're not subscribing, you're missing something … and by the ways cheapos, it's FREE! Yes, absolutely 100 percent FREE! What are you waiting for? Check it out HERE!
By the way, we're also old school social networkers, so check out our interactive skills on Facebook HERE and even on MySpace HERE. If you're on Friendster, GFY … and have a pleasant tomorrow!
HERE'S A HIGHLIGHT OF PAUL HEYMAN'S BREAKING NEWS APPEARAN
CE ON WWE NETWORK ABOUT THE BRIAN WILLIAMS CONTROVERSY!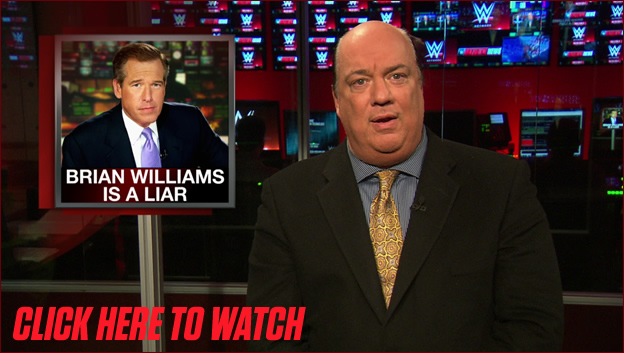 WE HERE AT THE HEYMAN HUSTLE HAVE ENSLAVED HIGHLY TRAINED
MONKEYS TO IGNORE THE FACT THEY ARE OVERWORKED AND UNDERPAID,
ALL IN THE NAME OF SCOURING THE WORLD WIDE WEB TO FIND THE FIFTEEN
MOST PROVOCATIVE STORIES ON THE INTERNET. ALL FOR YOU. NO ONE ELSE
BUT YOU. JUST YOU. AND ALL YOU NEED TO DO IS PICK WHICH PIC TO CLICK!