He's the UFC Heavyweight Champion.
He's the only man in history to have been NCAA Heavyweight Champion, WWE World Champion (I already know, let's move on), and UFC Heavyweight Champion.
He's heavily favored to win his Unification Fight this weekend against the UFC Interim Champion, and people are already talking about which heavyweight will be next in line.Yet, Brock Lesnar is not looking past Frank Mir.As a matter of fact, my old friend is thinking about nothing except how much he wants to be declared the victor over Mir at UFC 100.
Let's get a couple of things out of the way first.
I am a biased blogger on this subject. I like Brock Lesnar. I enjoyed working with him in World Wrestling Entertainment. I enjoyed writing for him, producing him, and working as both his on-air "agent" and his nemesis. Brock is an ambitious, driven, goal-oriented athlete whose competitive spirit keeps him focused on the task at hand. To Brock, being 2nd best at anything in life is nothing less than absolute failure.
When Brock debuted in WWE, I said to him "you're going to revolutionize what a big man is supposed to do in this industry." Without even digesting the comment, Brock turned to me and said "I want to be the best that ever stepped into the ring. Otherwise, what am I doing here?"
Fast-forward to today. Brock is in Las Vegas, and is already in a bad mood. He started to walked out on the UFC 100 press conference on Thursday, only to be persuaded back by UFC President Dana White. Brock is impatiently waiting to step into the Octagon. His intense training is over. Now all he has to do is wait.
That's a bit of problem. Brock hates to wait. It makes him angry. He gets this way before game day. He doesn't want to just sit around, or take in a show, or play a hand of Blackjack in the casino. Brock Lesnar wants to fight.
More specifically, Brock Lesnar wants to fight Frank Mir. And just to be totally accurate in my statement, Brock Lesnar wants to beat Frank Mir. As a matter of fact, Brock doesn't just want to beat Frank, he has a deep-seeded insatiable need to come out the victor on Saturday night.
"Frank Mir beat me," Brock grunted, "I'm not going to make any excuses for it. But I'm going to beat him this time, and I can't see it finishing any other way."
Brock has a lot of motivation. He's the biggest name in MMA, a crossover attraction that has not only the UFC audience aching to see him lose, but the pro wrestling audience loving the dominance he has shown over the legendary Randy Couture and the uber-tough Heath Herring. As the UFC Champion, he's in position to make a great deal of money, and he sees Frank Mir as the person standing in the way of several million-dollar paydays.
Brock is also, finally, very happy in his personal life.
He lives away from people (trust me, this is a good thing for "people"), and gets to go hunting (sorry to be so politically incorrect on this one, but … um …. well …. Brock truly enjoys the thrill of the kill), and his wife Rena (the former WWE Diva and 3x Playboy CoverGirl "Sable") just gave birth to their 9 pound son, Turk.
So now Brock has a chance to live in practical seclusion with his wife and their son (and a short distance away from his beautiful daughter Mya from his 1st marriage), and he gets a chance to do battle with another human being with the winner getting the opportunity to move on to more "money fights."
I am very impressed with Frank Mir. I like his style. I think he's an awesome fighter, and a great UFC personality. He has gorgeous wife, a tremendous perspective on life, and is one of the best interviews in all of MMA. But at this point in time, I wouldn't want to be Frank Mir.
Brock Lesnar is coming for revenge.
Oh, just a quick note, before we turn all eyes to the Mandalay Bay for the fight.
Brock Lesnar broke my neck.
I'm not kidding. In January, 2003, WWE Smackdown ran an event at the world famous Cow Palace in San Francisco, California. The main event was Brock Lesnar against The Big Show, with Brock's former "agent" (that would be me) in the Big Show's corner. Brock's coup de grace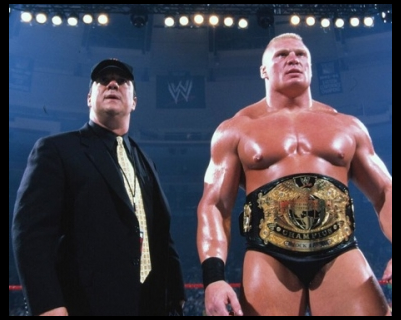 was to pick up his opponent, place said human being squarely on Brock's shoulders, and then spin them in mid-air as both performers went crashing to the canvas. Now while pro wrestling is based on the cooperation between the two men in the ring with each other, performing this move on the 500 pound "Big Show" was no small task.
However, for Brock Lesnar, just performing that awe-inspiring move wasn't enough. Brock started figuring ways to toss the 7 foot tall Big Show across the ring. You know, like a dwarf tossing contest. Except Brock was flinging a 7 foot tall, legit-500 pound giant. Just to amuse himself, Brock started flinging The Big Show not just for distance, but for accuracy.
The routine we did in every city was for Brock to defeat the Big Show with this move, which was called the F-5. Brock would then get his revenge on his dastardly agent (you see where this is going ,don't you?), and the evil agent "Heyman" would suffer the fate of the F-5 as well.
Brock used to hook me under the armpits, get this sinister grin on his face, throw me up into the air, and then catch me on his shoulders. Keep in mind, I'm no featherweight (again, I remind you, please reserve your comments). After milking the crowd's desire to see Heyman take the F-5, Brock would spin me around and we'd go crashing to the mat.
On this particular night, however, something went wrong. Either Brock's hand slipped an inch upward, or I was holding onto his shoulder too tightly, or just the manner in which we went towards the canvas was off by an inch, but instead of landing flat, I went head over heels down like a ferris wheel, and smashed into the canvas like a javelin. There was no doubt about it, I was hurt.
Brock, Big Show, and I were all making very good money at the time, and I didn't want to take any time off. so I kept the severity of the situation hidden from WWE Chairman Vince McMahon. When it finally came time to get an MRI, we discovered I had bulging discs in my neck and a herniated C-7.
Here's the funny part. I still love Brock Lesnar. He's the 800 pound gorilla who likes to play with you as he eats a banana. You just can't be surprised when his inhuman strength is way too much for a mere normal human being (like you or me) to keep up with, or even to play with safely.
Brock Lesnar, even when he's in a scripted situation with a person he considers his friend, is a very dangerous man.
This weekend, Frank Mir is in an unscripted situation with a person who considers him the enemy, and that person is a merciless 265 pound champion athlete who lives for the thrill of the kill.
Brock Lesnar is looking at Frank Mir the same way he views a nine point buck through the scope of his rifle. This is the moment where all other sounds are blocked off. Brock sees his victim. He has him in site. He only hears his own breathing, cherishing the few seconds left as he slowly pulls the trigger. It happens in a flash, but in the killer's mind, it all takes place in slow motion.
As the finger completes the pull of the trigger, Herb Dean calls for the bell. The bullet is propelled out of the chamber.
DING DING DING.
For Brock Lesnar, at that moment, the wait is over. It's not a fight. It's a hunting trip. Except this hunting trip is not taking place in the woods of Minnesota, and the catch isn't a deer.
This hunting trip has taken Brock Lesnar to Las Vegas. His weapon is his body. And his victim is Frank Mir.
For Brock Lesnar, this isn't a fight. It's hunting season. And Frank Mir is his kill.