In an announcement that shocked the media during the UFC 105 post-event press conference, Ultimate Fight President Dana White announced that Brock Lesnar is "not well and he's not going to be getting well anytime soon."
"He's in a hospital up in North Dakota somewhere right now," said White. "He doesn't want to talk about it publicly, but he's in bad shape."
The monstrous Lesnar pulled out of his scheduled November 21st main event at UFC 106 against Shane Carwin after contracting what he thought was a bad case of the flu but was then diagnosed with mononucleosis. After the official announcement was made that the fight was postponed, contracts were sent out for a January 2nd fight between the two. When Lesnar did not return the contract signed to UFC, he decided to take some time off and go to Canada, where he has some property.
White commented, "He went to Canada and some bad stuff happened to him, so we've got to figure it out. He is not good. He is very, very sick and he's going to be out for a while."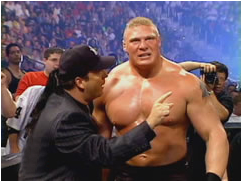 When asked about Lesnar's reported case of mononucleosis, White added, "He has other problems too. I am worried about it. You know, I can't really talk about it right now, but he's in rough shape. He's in really bad shape … and we're going to have to do some stuff to take care of this guy. We're going to have to send him to the Mayo Clinic or to Scripps, or one of those really good hospitals to figure out what's wrong with this guy."
Many of you may be checking in with THE HEYMAN HUSTLE because of Paul Heyman's personal friendship and reported business relationship with Brock. For those of you who are looking for that insight, I can tell you that Paul has not discussed this latest development with any of us, but is aware of this story being posted tonight. Paul has promised to update on the situation this week. While there are many rumors flying around, it does not appear that a full diagnosis is available, and after the press had already run with the mono story, it's obvious Lesnar's health problem is serious and perhaps even complicated.


CLICK HERE TO READ HEYMAN'S EXCLUSIVE BLOG ON LESNAR WHEN THE UFC 106 MAIN EVENT WAS OFFICIALLY CALLED OFF


CLICK HERE TO READ HEYMAN'S EXCLUSIVE BLOG ON BROCK BEING "THE ULTIMATE HEEL IN UFC"
Just to show you how devastating Lesnar's health issues are, here is a video Lesnar shot with one of his big sponsors at the start of his training camp for the Shane Carwin fight. It's amazing that a man who is this physical during the 1st week of training has seen his health deteriorate so quickly.
BROCK LESNAR'S UFC 106 TRAINING CAMP
Week One – Training for Carwin
---
IN A POLITICALLY INCORRECT MOVE, THE HEYMAN HUSTLE HAS OUTSOURCED THE MEDIA WATCH, WHICH MEANS PEOPLE WHO BARELY SPEAK ENGLISH WILL PICK OUT THE 15 TOP STORIES OF THE DAY.
BUT SERIOUSLY. WHAT COULD POSSIBLY GO WRONG. WRGNG. WORNG?