The Blizzard of 2015 Shuts Down Hartford, Connecticut, So RAW Moves To The WWE World Headquarters in Stamford … Where The Beast and His Advocate Address Some Topics!
Undisputed WWE World Heavyweight Champion Brock Lesnar and our boss, the Hustler De Tuti Hustlers Paul Heyman were interviewed LIVE from the WWE World Headquarters when a blizzard of historic proportions shut down the State of Connecticut, and therefore the arena event that was to be broadcast around the world as RAW from the state capital of Hartford. According to WWE.com:
As it turns out, it takes more than a broken rib, a snowstorm of historic proportions and the threat of being in the same building as Seth Rollins to deter Brock Lesnar from his victory lap after retaining the WWE World Heavyweight Championship at the Royal Rumble. The Beast Incarnate was nonchalant about his bruised body and utterly forthcoming about the mental fortitude it took for him to overcome The Undertaker's Streak at WrestleMania 30. As for his No. 1 contender, Roman Reigns? The Anomaly said he'd save his reactions for Reigns himself later in the night.

Of course, we're HustleTweeting about Brock Lesnar and Paul Heyman, and you're more than welcome to join the conversation by following the Hustle on Twitter HERE or write to us directly at hustleoncrave@gmail.com Hey, have you checked out the Hustle's Ultra High Quality You Tube Channel, with exclusive videos featuring OUR WORLD EXCLUSIVE WITH MIKE TYSON … BROCK LESNAR'S "HERE COMES THE PAIN" … ICE-T AND COCO's SEX SECRETS … MMA BAD BOY NICK DIAZ … the list goes on and on, so if you're not subscribing, you're missing something … and by the ways cheapos, it's FREE! Yes, absolutely 100 percent FREE! What are you waiting for? Check it out HERE!
By the way, we're also old school social networkers, so check out our interactive skills on Facebook HERE and even on MySpace HERE. If you're on Friendster, GFY … and have a pleasant tomorrow!
BROCK LESNAR AND PAUL HEYMAN SPEAK ON WWE MONDAY NIGHT RAW!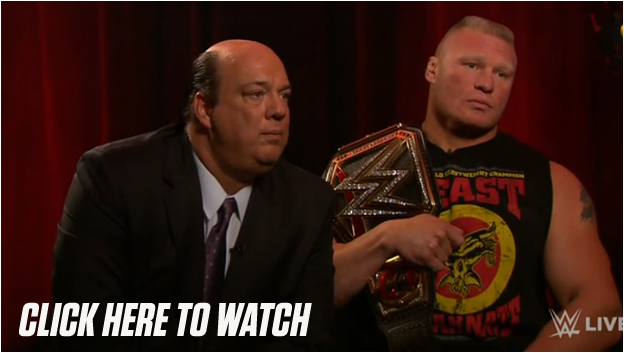 WE HERE AT THE HEYMAN HUSTLE HAVE ENSLAVED HIGHLY TRAINED
MONKEYS TO IGNORE THE FACT THEY ARE OVERWORKED AND UNDERPAID,
ALL IN THE NAME OF SCOURING THE WORLD WIDE WEB TO FIND THE FIFTEEN
MOST PROVOCATIVE STORIES ON THE INTERNET. ALL FOR YOU. NO ONE ELSE
BUT YOU. JUST YOU. AND ALL YOU NEED TO DO IS PICK WHICH PIC TO CLICK!