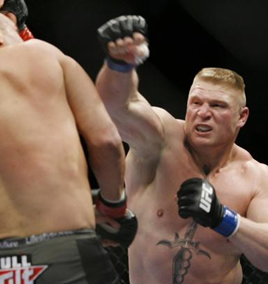 UFC Heavyweight Champion Brock Lesnar told ESPN Sports Center that he has experienced a miracle and is completely healed from the effects of diverticulitis.
The Ultimate Fight's main attraction sat with UFC President Dana White throughout the satellite interview, and stated he went to the doctors on January 5th and it was "A miracle, they were dumbfounded, they couldn't find any signs of any problem in my stomach. It's just a miracle to me."

Dana White confirmed the fight between Frank Mir and Shane Carwin at UFC 111 on March 27th from Newark, New Jersey will still be for the Interim Title, and then during the summer the titles will be unified again. If something goes wrong heading into UFC 111, Brock will fight the winner of the Cain Velasquez-Antonio Rodrigo Nogueira fight.
Dana White was very careful not to list that fight as an Interim Title Bout.
The most memorable moment of the interview occurred when Lesnar and Dana White were reminded that Brock is still recognized as the UFC Heavyweight Champion.
Lesnar jumped right in, saying "Let's be clear on that. I'm still the UFC Heavyweight Champion."
More to come as this breaking story develops.
BROCK LESNAR
ESPN SPORTS CENTER
JANUARY 20, 2010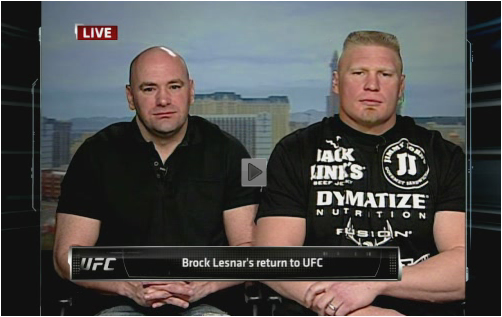 ---
THE HEYMAN HUSTLE IS PROUD TO PRESENT
THE HOLLYWOOD CHARLIE MEDIA WATCH FOR
WEDNESDAY, JANUARY 20, 2010. WOW. IS IT REALLY
TWENTY DAYS INTO TWENTY TEN? ISN'T THAT SOME
SORT OF DATE OF DOOM AS PREDICTED BY NOSTRADAMUS?
WELL, YOU BETTER HURRY UP, PICK A PIC, AND CLICK!