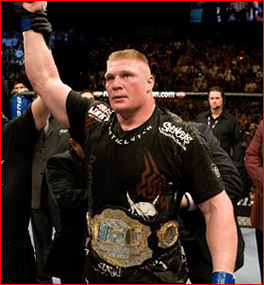 UFC Heavyweight Champion Brock Lesnar ended his self-imposed seclusion today, and the controversial Ultimate Fight Champion did not disappoint.
This is classic Lesnar, shooting from the hip, and speaking his mind in an unfiltered and unedited environment. The former NCAA Champion, former WWE Champion, and current UFC Heavyweight Champion didn't hold back regarding his political views, his thoughts on President Obama's health care reform, the health care system itself, and even discussed UFC a little bit.

At one point, Lesnar says to Dana White "I just opened up a whole can of worms right here."

Lesnar also talks about his status as an independent contractor, which was his status while working in World Wrestling Entertainment. He credits his wife Rena "Sable" Lesnar for saving his life by getting him out of the Canadian hospital and driving over 100 MPH to the hospital in Bismarck, North Dakota

CLICK ON THE VIDEO SCREEN BELOW FOR
THE BROCK LESNAR – UFC MEDIA CALL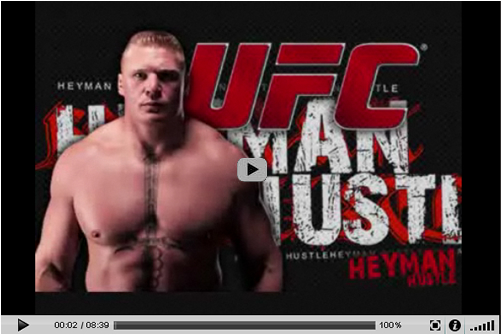 ---
THE HEYMAN HUSTLE IS PROUD TO PRESENT
THE HOLLYWOOD CHARLIE MEDIA WATCH FOR
WEDNESDAY, JANUARY 20, 2010. WOW. IS IT REALLY
TWENTY DAYS INTO TWENTY TEN? ISN'T THAT SOME
SORT OF DATE OF DOOM AS PREDICTED BY NOSTRADAMUS?
WELL, YOU BETTER HURRY UP, PICK A PIC, AND CLICK!