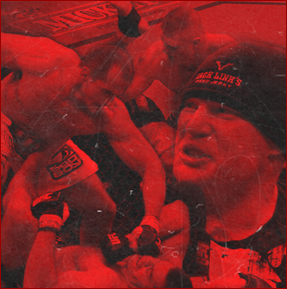 A 13 Week Reality Series Will Build Up A Number One Contender's Match For June 11th!
UFC continued to counter STRIKEFORCE'S 8-MAN HEAVYWEIGHT TOURNAMENT by announcing Brock Lesnar and Junior Dos Santos would be the rival coaches for The Ultimate Fighter's Season Number 13, which is scheduled to begin shooting in two weeks in Las Vegas. The season premier will March 30th on SpikeTV.

Brock and Dos Santos will spend 13 weeks training aspiring UFC welterweights, and then fight for the number one contender's position in the Heavyweight Division as the main event of a pay per view in June.

The winner of Brock vs Dos Santos will go on to fight Cain Velasquez for the Undisputed UFC Heavyweight Championship of the World later in the year when Velasquez returns from SHOULDER SURGERY TO REPAIR A TORN ROTATOR CUFF

There will be no Interim Champion crowned. Brock Lesnar vs Junior Dos Santos will determine the next big Heavyweight Title Fight in UFC.

"(Brock vs Dos Santos) will 100% happen on the June pay per view," Dana White exclaimed, "Who knows what the numbers could be this season? (The Ultimate Fighter) is the best night of television."

The head honcho of the world's most powerful mixed martial arts organization added, "I think this show is just going to grow and grow and grow forever … This is going to be an interesting season in many ways. Brock is not exactly a happy-go-lucky guy."

THE HEYMAN HUSTLE will have much more on this breaking story, including comments from our own Hustler De Tuti Hustler Paul Heyman, who co-authored Brock's autobiography, due out in April of this year.

We're also HustleTweeting about Brock's participation in TUF and his upcoming blockbuster fight against Junior Dos Santos, and you're more than welcome to join the conversation! Follow The Hustle on Twitter HERE or write to us at hustleoncrave@gmail.com
You can also subscribe (for FREE, cheapos, absolutely FREE) to our Ultra High Quality YouTube Channel HERE, and don't forget to check out our old school social networking skills by visiting us on Facebook HERE and even on MySpace HERE

EVERY SINGLE DAY, OUR CRACK STAFF OF OVERWORKED
UNDERPAID BUT HIGHLY TRAINED MONKEYS SCOUR THE
WORLD WIDE WEB IN SEARCH OF THE 15 HOTTEST STORIES
OF THE DAY, JUST TO BRIGHTEN YOUR DAY. COOL, RIGHT?
ALL YOU NEED TO DO IS PICK A PIC … AND CLICK!