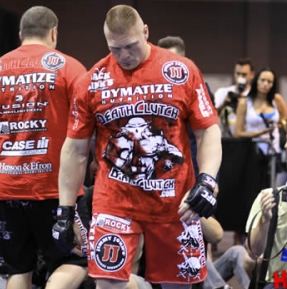 The UFC Heavyweight Champion Has A Shocking Shift In Strategy!
The text message on my cell phone had me wondering for over an hour. My boss, the man whose name appears on this website, our own Hustler De Tuti Hustlers Paul Heyman told me to be sure to cover the UFC 116 Open Workout from one side, while my associate Hollywood Charlie covered the very same workout from the other side. As many of you know, Paul is embedded in Camp Lesnar this entire week leading up to what is unquestionably the biggest pay per view event of 2010, this Saturday night's UFC 116 main event for the Undisputed Heavyweight Championship of the World, Brock Lesnar vs the undefeated Interim Champion Shane Carwin.

When Lesnar arrived for the workout, the fans who were allowed into the public display of Lesnar's size, power, speed, and ability were shocked. PAUL HEYMAN'S TWEET the other day contained zero embellishment. Brock Lesnar is 265 pounds, and will not have to cut any weight for the fight. Lesnar looks amazing, huge and ripped and ready to fight.

Lesnar's workout lasted all of about 45 seconds. The message was sent. It was loud and clear. Brock Lesnar had an amazing shift in strategy, no doubt brought on by the addition of Boston boxing legend Peter Welch into The Death Clutch Gym in Alexandria, Minnesota.

Brock Lesnar changed his stance.

He's hitting hard from the right, but his stance is that of a southpaw. He's bringing knockout power with the left hand now, set up by the jarring right he has crushed Frank Mir, Heath Herring, and Randy Couture with.

"I brought Peter Welch in, and we changed my stance and switched from standard … from traditional … to southpaw … and it's really worked out," Lesnar told the fans and media at the open workout, "It's helped in my wrestling, my shooting. We changed a lot of things."

Lesnar also provided the pro wrestling moment of the day when he knocked down a poster of Shane Carwin. "I just leaned on it," Lesnar joked, "whoops!"

But Lesnar also offered several introspective thoughts. "I'm excited for Saturday night," Lesnar revealed, "A lot of hard work to come from November 6, being in the hospital, to being here and being healthy. To be able to defend a title, it's pretty remarkable."

How did he do it? "It's just a lifestyle," Lesnar said, "It's one of those things where you just do it. It was a challenge for me. I overcame this. I got a title defense. These things are exciting for me."
With coach Marty Morgan, his Death Clutch stablemates, our own Hustlin' Heyman, the fans, and media all paying strict attention to the commanding presence that is Brock Lesnar, he continued, "Could I have hung it up and stayed at home and been a family man? Yeah, but it's not how I want my career to end. If this thing's going to stop, I want it to be on my terms. I just don't see Shane Carwin being the guy that's going to stop this freight train."

CLICK HERE FOR OUR UFC 116 SECTION, WITH OUR UNPRECENDTED 360 COVERAGE OF ALL THINGS LESNAR-CARWIN AS SIN CITY GETS READY FOR THE BIGGEST PAY PER VIEW OF 2010!
CLICK ON THE PICS BELOW FOR THE HEYMAN HUSTLE'S
EXCLUSIVE PHOTO GALLERY FROM BROCK LESNAR'S UFC 116
OPEN WORKOUT AT THE MGM GRAND IN LAS VEGAS, NEVADA!
CLICK ON THE VIDEO BELOW TO SEE
THE WAIT FOR LESNAR VS CARWIN FIGHT WEEK IS OVER!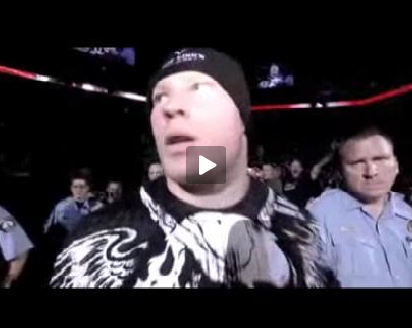 THE HEYMAN HUSTLE'S VERY OWN TRAINED MONKEYS ARE PROUD
TO PRESENT THE TOP 15 STORIES OF THE DAY, ALL CONVENIENTLY
LINKED HERE FOR YOUR REVIEW. NO NEED TO SURF THE WEB, WE
DID ALL THE HARD WORK FOR YOU. JUST PICK A PIC AND CLICK!