Your Official Guide To The Countdown to The Biggest Pay Per View Event of the Year, UFC 121
Spike TV's huge promotion for UFC 121's main event, the showdown between Brock Lesnar and Cain Velasquez for the Undisputed Heavyweight Championship of the World, kicks off tonight at 7:00 pm Eastern time when the cable network airs Lesnar vs Heath Herring.

The marathon continues at 8:00 pm with Lesnar's title victory over Randy Couture.

The infamous UFC 100 match in which Lesnar decimated Frank Mir airs at 9:00 pm.

And then at 11pm, it's the debut of UFC Primetime: Lesnar vs Velasquez. UFC and Spike have released some most interesting quotes from tonight's episode, which is the 1st in a trilogy on Spike:

"At any time it can be taken away from you. I don't take it for granted. I just want to be the greatest heavyweight of all time. And keeping whopping ass. And be the meanest son-of-a-bitch around" – Brock Lesnar
"I don't train to my strengths. I train to my weaknesses. What am I not good at? How can I get better?" – Brock Lesnar
"I don't worry about a guy like Brock Lesnar…I'm cautious…but know what you can do…know what you are capable of." – Cain Velasquez
"You are going to see Brock Lesnar get exposed for the first time. Here is somebody (Cain Velasquez) who is going to be a better wrestler…better striker…better ground guy…in better shape. And Brock is not going to have enough to deal with him." – Bob Cook (Cain's Strategy coach at AKA)
We're HustleTweeting about Brocktober, and you're more than welcome to join the conversation on THE HEYMAN HUSTLE's Twitter page HERE

Here is the entire schedule for Brocktober 2010:

UFC PRIMETIME: LESNAR VS. VELASQUEZ
Premiere Episode #1 – Wednesday, October 6 at 11:00pm
Premiere Episode #2 – Wednesday, October 13 at 11:00pm
Premiere Episode #3 – Wednesday, October 20 at 9:30pm

UFC 116: Lesnar vs. Carwin (re-air)
Wednesday, October 20 (7:00pm-9:30pm)
UFC UNLEASHED
Lesnar vs. Herring – Wednesday, October 6 (7:00-8:00pm) and Saturday, October 23 (6:00pm-7:00pm)
Lesnar vs. Couture – Wednesday, October 6 (8:00-9:00pm) and Saturday, October 23 (7:00-8:00pm)
Lesnar vs. Mir 2 – Wednesday, October 6 (9:00-10:00pm) and Saturday, October 23 (8:00-9:00pm)
Lesnar vs. Mir 1 – Saturday, October 23 (3:00-4:00pm)
UFC 121 COUNTDOWN
Monday, October 18 at 11:30pm
Wednesday, October 20 at 1:30am
Thursday, October 21 at 12:30am
Saturday, October 23 at 1:00pm
UFC All Access: Brock Lesnar (re-air)
Thursday, October 7 at 1:00am
Saturday, October 9 at 2:00pm

CLICK ON THE VIDEO BELOW FOR A PREVIEW
OF TONIGHT'S EXPLOSIVE DEBUT "UFC PRIMETIME" SHOW ON SPIKE!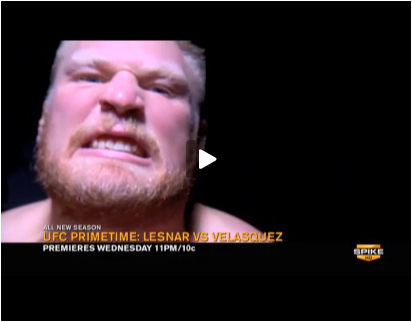 THE HEYMAN HUSTLE'S VERY OWN TRAINED MONKEYS ARE PROUD
TO PRESENT THE TOP 15 STORIES OF THE DAY, ALL CONVENIENTLY
LINKED HERE FOR YOUR REVIEW. NO NEED TO SURF THE WEB, WE
DID ALL THE HARD WORK FOR YOU. JUST PICK A PIC AND CLICK!